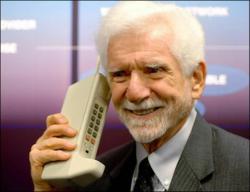 ... we would like to congratulate Martin Cooper on a well-deserved win of the 2013 Marconi Prize.
Phoenix, Arizona (PRWEB) April 03, 2013
Since its inception, Smartcomm's mission has been to be a world class leader in the mobile broadband industry. This drive to excel in such a dynamic industry would not be possible without Mr. Martin Cooper and his vision for a new world of communications. We pause today on the 40th anniversary of the first cellular telephone call ever placed and congratulate Mr. Cooper on being awarded the 2013 Marconi Prize for his revolutionary contribution to wireless telecommunications.
Marconi Prize for Pioneer
Mr. Martin Cooper was today honored with the 2013 Marconi Prize. The honor is given annually to "one or more scientists and engineers who achieve advances in communications and information technology for the social, economic and cultural development of all humanity" and is considered to be a pinnacle in the field of communication and information science.(PMSA - 1) The timing of the award is particularly fitting as the announcement comes exactly forty years after Mr. Cooper helped to launch the new age of portable wireless communications and in so doing he reshaped the telecommunications industry.
Martin Cooper is a visionary who made an enormous global impact. At the time he developed the first cell phone the marketplace did not even have cordless landline phones available. AT&T was lobbying the Federal Communications Commission for exclusive spectrum rights and investing heavily in the vision they had for the mobile communications future, which was car phones. It was hard for anyone to imagine that one day these handsets would be small, efficient, and affordable enough to be used by nearly 100% of Americans. But Marty Cooper imagined it. And on a corner in New York City on April 3, 1973, he made the first public phone call on a handheld cellular phone prototype created by Motorola. The phone was named DynaTAC (DYNamic Adaptive Total Area Coverage) and weighed 2.5 pounds.1 That famous call was made to Joel Engel, his rival at Bell Labs at AT&T.2 The demonstration was meant as a publicity campaign and was a huge success.
The Rest is History
Could Martin Cooper have fully realized back in 1973 the far-reaching implications that his phone call would have on mobile telecommunications, spectrum licensing, and even the financial windfalls that would follow for decades to come? Probably not. But what he did know at that time was "that people are inherently mobile, and that their mobile devices could not be too small or too light." (The Daily Beast - 2)
"On behalf of all of us at Smartcomm, we would like to congratulate Martin Cooper on a well-deserved win of the 2013 Marconi Prize," says Smartcomm Vice President Shannon Downs.
About Smartcomm, LLC
Phoenix-based Smartcomm, LLC provides consulting services and opportunities in the wireless communications industry to both individual and institutional clients. The company specializes in opportunities to acquire spectrum to be used for mobile broadband, through the filing of license applications, participation in FCC public auctions, or acquisitions in the secondary market.
(1) http://www.pmsa.us.com/HMA/Marconi_Prize_Martin_Cooper.pdf
(2) http://www.thedailybeast.com/articles/2013/04/03/the-cell-phone-turns-40-remembering-martin-cooper-s-historic-call.html