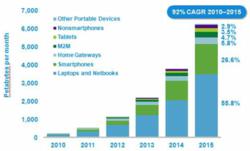 Phoenix, Arizona (PRWEB) November 26, 2012
The Federal Communications Commission (FCC) has announced that it will be seeking to add more bandwidth available for mobile broadband thereby increasing the spectrum space that is currently being offered to carriers by 2015.
Cisco VNI predicts that Global Mobile Data Traffic will continue to explode with a CAGR of 92% through years 2010-2015. With the rapid adoption of Smartphones, Tablets, and other data hungry mobile devices operators will be scrambling to add additional spectrum to their portfolios whether it be from FCC auctions of newly allocated spectrum, M&A, or from re-farming legacy operations.
(see image)
The FCC is currently looking at what spectrum it can make available to satisfy the ever increasing demand for mobile data.
The Middle Class Tax Relief and Job Creation Act of 2012 (H.R. 3630) provisioned the FCC with authority to:
1. Hold voluntary incentive auctions - broadcasters spectrum 600 MHz Band
2. Allocate necessary spectrum for a nationwide interoperable broadband network for First Responders - 700 MHz Upper D Block
> Provide $7bn for Public Safety Broadband Network
> Provide up to $1.75bn for relocation costs for Broadcasters
3. Establish auction timelines
> 1915-1920 MHz and 1995-2000 MHz - PCS H Block
> 2155-2180 MHz - AWS 3 Block
> 1755-1780 MHz - Government
> 1675-1710 MHz paired with 15 MHz to be determined by the FCC.
The FCC is also poised this quarter to either allow or block Dish from using their 40 MHz of MSS spectrum for terrestrial mobile broadband. In order for Dish to meet its accelerated self imposed coverage requirements upon approval, Dish will have to partner with an existing operator to host its spectrum on an existing network.
While the FCC is taking necessary steps to make spectrum available via auctions for public operators, this process is not expected to yield quick results. Carriers will have to engage in the lengthy process of bringing this spectrum to market. The standardization process through 3GPP, testing and implementation of new Band Classes, integration of new devices and infrastructure all take significant time in order for a carrier to deploy new spectrum allocations. With the ever increasing demand for mobile data by subscribers, rapid adoption of smartphones and tablets, the explosive growth of M2M, and as developers create data intensive applications such as Siri, Facetime, mobile video, et.el., carriers will continue to look for new spectrum via M&A, re-farming legacy networks, small cells, Wi-Fi offloading, or other alternative methodologies.
About Smartcomm, LLC
Phoenix-based Smartcomm, LLC provides consulting services and opportunities in the wireless communications industry to both individual and institutional clients. The company specializes in opportunities to acquire spectrum to be used for mobile broadband, through the filing of license applications, participation in FCC public auctions, or acquisitions in the secondary market.