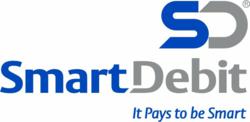 As a Bacs Affiliate, SmartDebit have exclusive access to the latest payments industry related research and information
(PRWEB UK) 9 August 2012
SmartDebit have recently become an 'Affiliate' of Bacs, the governing body behind Direct Debits. By gaining this membership, SmartDebit now join a prestigious group comprising some of the foremost organisations within the payments industry including banks, government organisations, leading UK businesses and payment technology providers.
As a Bacs Affiliate, SmartDebit have exclusive access to the latest payments industry related research and information, as well as being entitled to attend Affiliates Interest Group (AIG) meetings. These meetings will provide Smart Debit with the opportunity to discuss and comment upon a wide range of payments industry topics, especially Direct Debits. Combined with their extensive payment processing experience, SmartDebit intend to use this membership to determine and shape the future of electronic payments in the UK, ensuring any proposed regulatory changes are for the benefit of the industry and their clients.
SmartDebit's Operations Director, Rhys Daniel, commented "Becoming a Bacs Affiliate gives us the opportunity to have input into topical debates surrounding the payments industry and provide feedback to Bacs. We will also receive advanced details and have the ability to influence and analyse the impact of future regulatory changes."
SmartDebit™ are the UK's leading Direct Debit Bureau, specialising in payment processing services since 1998. A Bacs approved Bureau, scoring 'Excellent' in all five categories of the Bacs audit, and ISO 27001 compliant. Providing a complete range of services: Outsourcing; SmartDebit-Admin cloud based portal; SmartDebit-Online payer sign up; SmartDebit-API integrated solution and SmartDebit-Contingency.