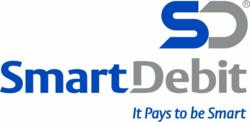 (PRWEB UK) 14 November 2012
As the payment processing needs of companies becomes more complex, in particular for customer not present transactions, by integrating SmartDebit's marketing leading Direct Debit processing capability into Computop's Paygate platform, merchants are now able to access and offer their customers all forms of payment, through a single gateway. Thus reducing the complexity and cost normally associated with integrating with multiple payment processors.
The partnership comes at a time when Direct Debits are becoming a more prominent feature in the average bank account holder in the UK. According to Bacs, the governing body behind Direct Debits, the number of Direct Debits processed in the UK increased by 59.7% between 2000 and 2011. Research increasingly suggests that Britain is moving towards a 'cashless society', it has never been more essential for organisations to ensure their payment offerings include Direct Debit for regular transactions.
Stephen Berry, MD of Computop UK, comments "Computop is looking to expand its payment offerings to meet an increasing customer demand for reoccurring payment solutions.
He continues, "As we look to grow our footprint in the UK, Direct Debit processing is an increasingly important and popular payment option amongst merchants within industries such as digital downloads and telecommunications. Our partnership with SmartDebit provides a valuable addition to our payments portfolio for clients."
SmartDebit's Sales Director, Paul Simpson, comments; "We are delighted to be partnering with a global payment service leader for their expansion into recurring payment methods in the UK. Our expertise in the Direct Debit industry will aid Computop grow the business within key vertical industries."
About SmartDebit
SmartDebit is the UK's leading Direct Debit Bureau, specialising in payment processing services since 1998. A Bacs approved Bureau, scoring 'Excellent' in all five categories of the Bacs audit, and ISO 27001 compliant. Providing a complete range of services: Outsourcing; SmartDebit-Admin cloud based portal; SmartDebit-Online payer sign up; SmartDebit-API integrated solution and SmartDebit-Contingency.