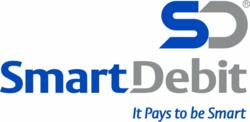 This certification guarantees that SmartDebit conducts risk assessments and threat analysis to expose vulnerabilities which could threaten their secure operation
(PRWEB UK) 14 August 2012
ISO 27001 is an international standard created in 2005 to encourage and support organisations responsible for information security to bring their procedures into line with a full Information Security Management System (ISMS). ISO 27001 is an on-going process with annual audits.
Commercial Direct Debit Bureaus do not have to be ISO 27001 certified, however, SmartDebit recognises the importance for security and business continuity in the financial services industry. SmartDebit is committed to safeguarding the security of their clients' data as well as their own information assets. This certification guarantees that SmartDebit conducts risk assessments and threat analysis to expose vulnerabilities which could threaten their secure operation.
ISO 27001 Certification and Registration provides assurance to SmartDebit's clients that a system has been approved which maintains their ISMS, and ensures it stays in line with future developments which gives their clients the confidence that their information is handled with integrity.
A spokesperson from SmartDebit commented, "Preparations for ISO 27001 Certification began back in July 2011. A huge amount of effort and documentation has been completed by all employees leading up to the recent audit, so we are really pleased that all of the hard work has paid off. We would like to reiterate the fact that this is just the beginning of our commitment as an ISO Certified Organisation and we are sure our business as well as our clients will benefit from the safeguarding of information against both internal and external threats".
SmartDebit™ are the UK's leading Direct Debit Bureau, specialising in payment processing services since 1998. A Bacs approved Bureau, scoring 'Excellent' in all five categories of the Bacs audit, and ISO 27001 compliant. Providing a complete range of services: Outsourcing; SmartDebit-Admin cloud based portal; SmartDebit-Online payer sign up; SmartDebit-API integrated solution and SmartDebit-Contingency.