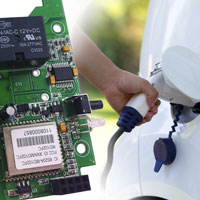 We are totally committed to the ZigBee standard, and to making the HAN equally useful to utilities and to consumers.
San Juan Capistrano, CA (PRWEB) January 10, 2013
A joint project between leading EV charging station provider ClipperCreek and proven ZigBee product manufacturer Smartenit has resulted in the first commercially available device that can connect to smart meters in a home area network (HAN). The project was sponsored by a major electric utility and a pilot rollout is expected to be completed in the first half of 2013. The EV charging station uses the Smartenit ZOE-EVC, a ZigBee SEP 1.1 certified module. The use of this module presents many advantages to the charging station design, including the ability to measure the charging profile and control the charging schedule. This gives the station additional intelligence in managing the various charging patterns presented by the myriad electric vehicles available now and in the future.
The project established between ClipperCreek, Smartenit and a major US electric utility marks a pioneering effort aimed at accelerating deployment of the smart grid. "Working with Smartenit made a lot of sense for us, as they complemented us with their expertise on ZigBee and their proven line of smart energy products that are ZigBee SEP 1.x certified" said Jason France, CEO of ClipperCreek.
"The ZigBee SEP 1.x profile, now in use in millions of smart meters being installed all over the world has proven to be a robust protocol on which to base the HAN, a major part of the smart grid. We are totally committed to the ZigBee standard, and to making the HAN equally useful to utilities and to consumers" said Al Choperena, CEO of Smartenit. Indeed, Smartenit is currently shipping a complete line of products for the HAN that include a unique gateway, smart plugs, large load controllers and other useful interfaces. Smartenit claims it is putting "home" and "automation" into the HAN.
About ClipperCreek, Inc.
ClipperCreek, Inc., the leader in electric vehicle charging products, develops EV charging solutions compatible with every vehicle on the market. For over 15 years, ClipperCreek's products have routinely provided millions of charges and are relied upon by thousands of EV drivers daily. ClipperCreek's innovative technologies set the standard for the market and provide the safest, most innovative, reliable and affordable Electric Vehicle Supply Equipment (EVSE) in the industry. http://www.ClipperCreek.com
Smartenit: Monitor and Control Anything from Anywhere
Smartenit, Inc. (formerly SimpleHomeNet) is dedicated to delivering automation solutions that save electricity and water while providing comfort in modern homes and buildings. Smartenit offers cost-effective, easy-to-use products that are part of an expandable and comprehensive system to monitor and effectively manage energy use. For more information, visit: http://www.Smartenit.com or view some of the products in action at http://video.smartenit.com.
ZigBee: Control your world
ZigBee offers green and global wireless standards connecting the widest range of devices to work together intelligently and help you control your world. The ZigBee Alliance is an open, non- profit association of approximately 400 organizations driving development of innovative, reliable and easy-to-use ZigBee standards. The Alliance promotes worldwide adoption of ZigBee as the leading wirelessly networked, sensing and control standard for use in consumer, commercial and industrial areas. For more information, visit: http://www.ZigBee.org.