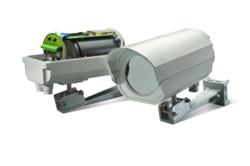 Our newest perimeter intrusion detection offering provides a high-value alternative for customers who seek a greater level of security for their assets and people."
Austin,TX (PRWEB) March 28, 2012
Smarter Security, Inc., provider of premium, innovative entrance control and outdoor security solutions, today announced the launch of SmarterBeam CLR500+, a new model in the company's line of passive infrared motion detectors. SmarterBeam CLR500+ improves upon the company's current long-range detector by increasing the detection area near the system's mounting, and also features three alarm outputs to enhance alarm response. SmarterBeam is available for demo at ISC West, happening March 28-30 in Las Vegas.
"Customers often require video verification of alarms in order to better manage security staff efficiency and not incur false alarm fines from police agencies," said Jeff Brown, CEO of Smarter Security. "SmarterBeam CLR500+ helps address this need by triggering the closest camera to capture an incident and allowing dispatched personnel to more quickly reach the area of concern. Our newest perimeter intrusion detection offering provides a high-value alternative for customers who seek a greater level of security for their assets and people."
Smarter Security's new CLR500+ model increases the detection area by over four percent. This allows detection close to the unit which improves security for both single and multi-unit installations. The CLR500+ has a 500-foot-long detection field which is separated into three zones divided at distances of 60 and 165 feet. Three distinct alarm outputs by zone enable security cameras to better focus on the intrusion area, and also improve the speed and effectiveness of guard or police officer response by more accurately identifying the breach area. SmarterBeam CLR500+ simplifies user management by employing a universal bracket for wall, pole or ceiling mount.
SmarterBeam detects individuals in its coverage area by comparing the temperature change between a moving object and a stationary background and then sounds an alarm accordingly. Precision engineering and advanced technologies, such as adaptive threshold decoding and signal shape analysis, yield one of the lowest nuisance alarm rates in the industry. Regarded as a highly reliable and accurate motion detector for demanding outdoor environments, SmarterBeam has been a part of more than 40,000 installations worldwide, including government sites, utilities, warehousing centers, retailers and educational institutions.
Smarter Security will provide demos of SmarterBeam and SmarterFence™, a fence-mounted perimeter intrusion detection system, during ISC West in booth 12101. For more information regarding SmarterBeam CLR500+, please visit: http://www.smartersecurity.com/outdoor-security/smarterbeam.
About Smarter Security, Inc.
Smarter Security provides premium and innovative entrance control and outdoor security solutions to help organizations protect their people and assets in a world of ever-present threats. Since 1992, Smarter Security has offered Fastlane turnstiles, the most elegant and intelligent optical turnstiles available, which protect thousands of commercial and governmental lobbies on six continents. Smarter Security also offers perimeter intrusion detection systems, including SmarterFence, a fiber optic fence-mounted sensor. For more information, please visit http://www.smartersecurity.com.
# # #