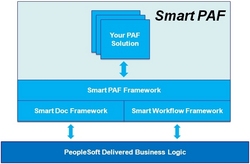 . . . the most significant improvements will come from the solution's automated workflow features as approving and tracking the electronic forms will be much easier for approvers and our HR staff
San Francisco, CA (PRWEB) September 20, 2010
Smart ERP Solutions, Inc. ("SmartERP") announced today that Central Washington University (CWU) has selected the company's software solutions to automate HR processes within their PeopleSoft HCM application. Pre-built add-on solutions from SmartERP will automate manual HR processes at the University that currently utilize paper forms for personnel actions such as hiring employees, making pay adjustments, and position changes.
Many PeopleSoft customers use similar paper forms that are manually filled out, physically routed to managers for approval and signature, and then finally keyed into the PeopleSoft HCM application by HR administrators for processing. CWU turned to SmartERP's solution to automate and streamline their HR process with electronic versions of paper personnel action forms. The electronic personnel action forms will be entered directly into their current PeopleSoft application, electronically routed for approval, and then automatically updated in PeopleSoft upon final approval.
Seamless integration into PeopleSoft was an important technical factor in CWU's selection of SmartERP, an Oracle Gold Partner. "We wanted a solution that readily integrates into our existing PeopleSoft in an add-on fashion" said Gene Rau, Director, Application Services at CWU. "The solution from SmartERP will enable us to leverage our existing infrastructure to bring all our forms online directly into our PeopleSoft application, with electronic workflow features we required such as ad hoc approvals already built-in as configuration options".
With deep PeopleSoft application development background, SmartERP provides software solutions that meet the common need for automating processes in PeopleSoft. "Electronic personnel forms with automated workflow are common requirements I hear from customers who are looking to automate and streamline their manual and paper-based processes. When PeopleSoft customers mention this to me, it's great to be able to tell them 'we have a pre-built solution for that!'" said SmartERP CEO, Doris Wong. Previously with Oracle Corporation, Ms. Wong was the Group Vice President and General Manager responsible for the entire PeopleSoft product line and she continues to channel her passion for innovation toward meeting PeopleSoft customer needs. "We designed the electronic personnel action forms we're deploying at CWU with configurable features that completely automate and streamline HR processes, from the initial data entry of the forms to the automated approvals and updating of PeopleSoft. Once you take the process online, you not only gain efficiencies but you also gain greater visibility and accountability." added Ms. Wong.
CWU expects to gain significant efficiencies in their HR business processes with the solution. "Just getting our different personnel action forms online will streamline our current manual process for hires, job changes, and terminations. But the most significant improvements will come from the solution's automated workflow features as approving and tracking the electronic forms will be much easier for approvers and our HR staff." said Wendy Rittereiser, Director of Benefits and HRIS, at CWU.
More information on the solution is available online at http://www.smarterp.com/paf.
Video previews of the company's solutions can be viewed on their Solutions Preview Page.
About Smart ERP Solutions, Inc.
As an Oracle Gold partner that has completed Oracle Validated Integration, SmartERP focuses on providing innovative, release independent, add-on solutions for PeopleSoft applications to increase productivity, efficiency and usability while reducing development timelines, minimizing costs and avoiding customizations to lower total cost of ownership.
###