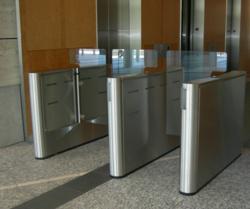 Our position is a direct reflection of the strong execution our team is applying to help solve real-time security challenges.
Austin, TX (PRWEB) September 15, 2011
Smarter Security Systems, provider of premium, innovative entrance control and outdoor security solutions, today announced that is ranked as the leading supplier of speedgates in the Americas market in the 2011 edition of "The World Market for Pedestrian Entrance Control Equipment." In this regularly published report from IMS Research, Smarter Security is the market share leader with a 30.6 percent share in 2010 and is much farther ahead of the number two supplier than it was in 2008.
"Smarter Security continues to lead the speedgate market in the Americas by capitalizing on a growing trend for corporate and government buildings to increase their security and to do everything possible to make sure building occupants and visitors are kept safe from harm," comments Justin Siller, Research Manager and report author for IMS Research.
Speedgates comprise the predominant technology used for pedestrian entrance control in the Americas. While this larger market declined about seven percent in the two years, the market for speedgates used in building applications actually declined twelve percent from 2008 to 2010, per IMS Research. Smarter Security's share of the market dipped slightly from 30.9 percent in 2008, but the number two supplier saw its share decline by over twenty-five percent to separate Smarter Security from its nearest competitor by over thirteen share points.
"This has certainly been a challenging two years for the industry, and we are pleased to make it through it with our strong market position as the number one provider of optical turnstiles with barriers," said Jeff Brown, CEO of Smarter Security Systems. "Our position is a direct reflection of the strong execution our team is applying to help solve real-time security challenges. We are maintaining our focus on working closely with our integrator customers to ensure we supply innovative products and services to grow our share."
Smarter Security Systems succeeds in this market by offering a wide range of Fastlane speedgates with premium designs, advanced technology, and high reliability. The company will have many of these speedgates on display next week at ASIS International 2011 at the Orange Country Convention Center in Orlando, Florida from September 19-21. Available for demo in booth 1651 will be GlassGate™ units, including the new GlassGate 150, GlassWing™, and Fastlane Plus.
IMS Research is unique in its approach to studying the pedestrian entrance control market as it compiles its intelligence and financials by talking directly with over three-quarters of the suppliers. The comprehensive report details 11 different equipment types across 14 end-user industries and 31 different countries. Find out more about the report here: http://imsresearch.com/research-area/Security_and_Fire/Entrance_Control.
About Smarter Security Systems, Ltd.
Smarter Security Systems provides premium and innovative entrance control and outdoor security solutions to help organizations protect their people and assets in a world of increasing threats. Since 1992, Smarter Security has offered Fastlane turnstiles, the most elegant and intelligent optical turnstiles available, which protect thousands of commercial and governmental lobbies on 6 continents. Smarter Security also offers perimeter intrusion detection systems, including SmarterFence, a fiber optic fence-mounted sensor. For more information, please visit http://www.smartersecurity.com.
# # #