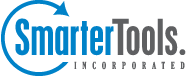 ViUX has been a reseller and lease-reseller of SmarterTools software licenses since 2006, so we are pleased to now add license upgrades. - J.T. Smith, ViUX Systems
Raleigh, North Carolina (PRWEB) December 13, 2012
ViUX Systems is a long time authorized monthly lease-reseller of SmarterTools software, including: SmarterMail, SmarterStats, and SmarterTrack – starting at $15 per month. In addition to monthly lease terms, ViUX™ also offers SmarterTools software for outright purchase at a 10% discount off the retail SmarterTools.com pricing. Now ViUX™ has added 10% discounted SmarterTools license renewals and upgrades for holders of existing purchased SmarterTools software licenses.
Existing SmarterTools purchased software licenses for which the 12-month upgrade protection period is still active receive unlimited minor and major version upgrades – at no additional charge. For those wanting to keep their SmarterTools software current, significant cost savings can be had by extending the upgrade protection period for an additional year with ViUX™ – for 30% of the original retail license cost (70% off). If the upgrade protection period has already expired it can also be reinstated with ViUX™ – for a discounted price.
ViUX™ also now offers Professional to Enterprise edition upgrades and level upgrades, such as support for more: Mailboxes (SmarterMail), Websites (SmarterStats), or Agents (SmarterTrack) – all at 10% off the SmarterTools.com pricing.
To learn more about ViUX Systems and SmarterTools software licensing options, please visit: http://smartertools.viux.com or call 1-866-858-VIUX (8489).
----------
About ViUX Systems, Inc.
ViUX Systems is a privately held North Carolina Corporation established in 2003 – with the mission to provide individuals and businesses of all types and sizes with the Web / Internet Technology and Software Solutions required to offer their products and services to the world... with Vision, Understanding, & eXperience.