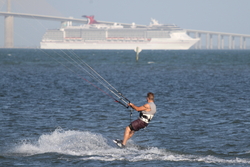 You can leave your worries behind and just have a blast on the water all day long.
Tampa, FL (PRWEB) June 14, 2010
Smart Extreme Inc, SmartExtreme.com, has just released a 2010 schedule of kitesurfing vacations it offers in Brazil (Fortaleza, Paracuru, and Jericoacoara coastline).
With steady predictable winds in the range of 18 - 30 knots from July through January, the Brazilian coastline between Fortaleza and Jericoacoara is a dream of all wind sports fans, including kiteboarders and windsurfers.
Smart Extreme team has many years of experience in providing top-notch kitesurfing tours. The company's comprehensive knowledge of local weather, traditions, and connections provides customers with the best vacation of their life. The tours are a well-balanced combination of kiting, nightlife and as much Brazil sun as one can handle. Standard kite vacations are 7- and 10-day tours.
Various group discounts are offered all the time. For groups of 4 people and more we can arrange completely custom tours with desired dates, locations and hotel/transportation/meal arrangements.
"The windy season is on here, on the Brazilian coast between Fortaleza and Jeri, so it is a perfect time and place for unforgettable kiteboarding downwinders. The kite tours (we call them "surfaris") include all breakfasts and hotel/transportation arrangements. You can leave your worries behind and just have a blast on the water all day long.", says Paul Craddock, VP of Smart Extreme, Inc. "You can bet on quick and tremendous improvement of your kiting skills, as well".
Experienced staff of Smart Extreme, Inc. is here to be a part of the best experience of your life and to show you places you could never find on your own. You will feel reborn after your vacation with us. Smart Extreme will help you to spend each new day exploring different and exciting kite and surf locations around the world.
About Smart Extreme, Inc.
Smart Extreme is the leading global tour, vacation, and instruction provider specializing in extreme sports. It offers all-inclusive vacations and instruction for extreme sports fans worldwide. Please visit our web site SmartExtreme.com to learn more about the company and its unique services.
Contact: Paul Craddock, Smart Extreme Inc., VP
+1 (727) 490-3577
SmartExtreme.com
© 2010 Smart Extreme Inc.
# # #