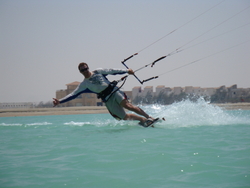 As extreme sports enthusiasts ourselves, we all know what it's like to chase the wind. When you're with us, we will take care of this part so that you could just blissfully spend as much time on the water as possible. Our tours are all-inclusive, so you can leave your worries behind and simply have a blast on the water
Tampa, FL (PRWEB) August 8, 2008
Smart Extreme, Inc. has just launched a few new extreme sports tours for kiteboarders and windsurfers in the most reliably windy destinations around the world. The company utilizes many years' extreme sports experience, deep local knowledge and well established connections to provide its customers with the best vacation of their life.
Currently, Smart Extreme offers various international destinations that any wind sports fan could dream of: Le Morne (Mauritius), Prea and Fortaleza (Brazil), Isla Coche (Venezuela), Cabarete (Dominican Republic), Bridgetown (Barbados), El Yaque (Isla Margarita), Golf de Roses and Tarifa (Spain), Essaouira (Morocco), Djerba (Tunisia), Ras Sudr and Safaga (Egypt), Sal (Cape Verde), Alacati (Turkey).
Smart Extreme (http://www.smartextreme.com) provides full variety of services for kiteboarders and windsurfers:

Multilingual certified kitesurfing and windsurfing instruction for beginners
Hotel and travel arrangements for all budgets
Multilingual certified kiteboarding and windsurfing refresher lessons
Equipment rentals, storage, transportation, and insurance
Boat-supported channel crossings
Epic downwinders supported with all-wheel drive vehicles
Rescue support for riders enjoying riding in big waves and rough open seas.
"As extreme sports enthusiasts ourselves, we all know what it's like to chase the wind. When you're with us, we will take care of this part so that you could just blissfully spend as much time on the water as possible. Our tours are all-inclusive, so you can leave your worries behind and simply have a blast on the water," said Paul Craddock, VP of Smart Extreme, Inc. "Our top-notch guides and instructors will help you dramatically improve your kiting and windsurfing skills and will take care of all possible local culture/language barrier issues or your equipment gear failures."
Experienced staff of Smart Extreme, Inc. is here to be a part of the best experience in your life and to show you places you could never find on your own. You can count on making tremendous progress in kiteboarding or windsurfing and will feel reborn after your return. With us you will spend each new day exploring different and exciting kite and surf locations around the world.
About Smart Extreme, Inc.
Smart Extreme is the leading global tour, vacation, and instruction provider specializing in extreme sports services. It offers all-inclusive vacations and instruction for extreme sports fans in 14 countries. Please visit our website, smartextreme.com, to learn more about the company and its unique services.
Contact: Paul Craddock, Smart Extreme Inc., VP
+1 (727) 490-3577
smartextreme.com
© 2008 Smart Extreme Inc.
###