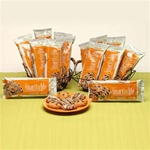 Now you can get all the latest Smart For Life promotions from the number one cookie diet source, SmartForLifeReviews.com
Tampa, FL (PRWEB) May 29, 2012
Summer is finally here, and many are scrambling to find last minute ways to help fit into their swimwear. Quick fad diets usually do not produce the desired results. The Smart for Life Cookie Diet is a simple meal replacement plan that helps participants learn how to use small meals throughout the day instead of eating three large meals a day. SmartforLifeReviews.com provides significant product information and reviews. The site now also includes special Smart for Life promotions, coupon codes, and sale information for extra value.
The Cookie Diet is a nutritional meal replacement program where participants eat cookies in place of breakfast and lunch. Dieters then enjoy a healthy homemade dinner. The Smart for Life products, which consist of natural and organic ingredients, are sold in a variety of forms. The cookie variety packs are available in nine day packs. They are also offered in two and five week packs. Those who purchase the five week cookie variety pack are actually receiving one week free. Delicious flavors include Chocolate Chip, Oatmeal Raisin, and Blueberry.
Dieters looking for a wide array of food choices can purchase any of the other Smart for Life products offered. These products can replace the cookies in the meal replacement program during any meal of the day. Those in the program can choose from cereal and muffins for breakfast. Coffee lovers can enjoy Smart for Life creamers. Lunch offerings include soups, protein bars, and shakes. Cupcakes, granola squares, and even hot cocoa are also offered as replacement options.
Smart for Life offers variety packs filled with tasty products in accordance with how much weight loss is needed. Regardless of a dieter's target goal they can choose a variety pack, which replaces breakfasts, lunches, and snacks, costing only $5 or less a day. The packs include an assortment of cookies, soups, granola squares, and protein bars. Dieters, at this low price, will find that the products are still economical even when Smart for Life promotions are not being offered.
Dieters who prefer certain meal replacement products over others, such as cupcakes to granola bars and vice versa, can choose variety packs such as the cupcake variety pack. Smart for Life also offers a muffin and bagel pack, a cereal and soup pack, and shake packs. Those who enjoy the soup packs will find the soup bowl variety pack the best option for them. Dieters who have a sweet tooth can get their fix with the 42 day variety pack. This pack includes items such as cookies, cupcakes, and shakes. However, it also includes bagels and soups.
The program's One Day, One Deal offers give dieters a chance to take advantage of Smart for Life promotions daily. Each day for 24 hours one product is featured at a special sale price. Those participating in the program can take advantage of, as well as stock up on the replacement products they love at great rates. In addition to Smart for Life's great deals customers receive free shipping on every purchase regardless of how much or how little they spend. Whether exclusively following the program with cookies, or adding a little variety, those looking to lose weight will find this diet plan an easy and affordable solution.