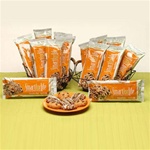 The program not only helps control hunger, but can help reduce cholesterol, improve intestinal health, and help maintain glucose levels.
Tampa, Fl (PRWEB) December 27, 2011
The most wonderful time of the year is here. Hearts will be filled with joy while bellies will be filled with goodies! Many enjoy indulging in the wonderful treats of the season. However, most do not enjoy the bulge around the waist that appears shortly thereafter. The holidays are the perfect time to make those New Year's resolutions. The Cookie Diet now offers a solution to rebound after putting on the holiday pounds. This simple diet plan will help curb the appetite while ensuring nutrients are met.
There are a few different brands on the market and the brands are all very different. Smartforlifereviews.com has reviewed the different brands on the market and provided up to date information for consumers to freely view. Their top rated brand is Smart For Life. To read more visit their site at Smart For Life Review.
The Smart for Life Cookie Diet is a meal replacement plan consisting of preservative free mostly organic and all natural products. The plan will help retrain users to only eat several small meals throughout the day. The products include ingredients that are high in fiber and antioxidants. The program not only helps control hunger, but can help reduce cholesterol, improve intestinal health, and help maintain glucose levels. The diet frees users of tedious calorie counting and measuring. The cookie, along with a glass of water, is all that is needed to follow the program. Of course, exercise always helps dieters reach their goals quickly.
Dieters using the Cookie Diet simply replace breakfast, lunch, and snacks with a nutritious cookie. A healthy meal may then be prepared for dinner. Those who feel they need an after dinner snack may have recommended snacks that will curb salty, sweet, and crunchy cravings. The plan must be followed in order to fully benefit from the program. Those needing help with the plan will be able to take advantage of the great support system the company has in place. Doctors and other highly trained staff members are always available to assist those with questions or concerns. Dieters can also call into weekly phone conferences, and interact with other Smart for Life clients during support group meetings.
While the Smart for Life Diet mainly consists of using cookies as the main meal, other products are available to keep the palate feeling satisfied. Customers can choose from cereals, soups, muffins, and even cupcakes. Shakes are available, and coffee lovers will enjoy the Smart for Life creamers offered instead of milk or regular creamers. Hot chocolate is also offered, and even includes marshmallows.
Thinadventure fiber, one of the ingredients included in the Smart for Life products, is considered a super fiber containing ForteFiber. ForteFiber is 100% soluble fiber, and more powerful than regular fiber. ForteFiber is plant based, and an easy way for dieters to add fiber to their diet without intestinal issues such as gas and bloating. Lepticore, a plant extract based supplement, is also a key ingredient used in the Cookie Diet products. Lepticore helps enhance weight loss by helping to reduce stored body fat. It acts as an antioxidant that controls hunger while boosting the metabolism. Both ThinAdventure fiber and Lepticore help support cardiovascular health.
Dieters can look forward to their dinner, but must remember to make it a sensible one. Those indulging in a fat filled meal will not receive the results they are hoping to attain. Smart for Life helps those following the program by offering recipe suggestions. Most of the recipes are fit for the entire family to ensure easy meal planning. Cookie Diet users do not have to worry about preparing separate meals for themselves. Their simple recipes, such as Party Time Buffalo Chicken Tenders, are meals that even children will enjoy. Those who have picky eaters in the family will enjoy the one serving recipe suggestions.
The Smart for Life Cookie Diet is a great program to help reach and maintain weight loss goals. Dieters do not have to break the bank with this simple meal replacement plan. Less than $10 a day will help those looking to change their lifestyle. Most people spend more than that daily on high calorie breakfasts, lunches, and snacks. New Year's resolutions are sure to be kept with this easy and fulfilling diet plan solution.
# # #