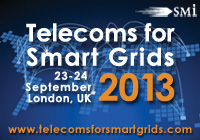 London (PRWEB UK) 8 June 2013
The smart grid will transform the way power is delivered, consumed and accounted for. Adding intelligence through the newly networked grid will increase reliability and power quality, improve responsiveness, increase efficiency and provide a platform for new applications. Driving operational efficiency for ageing infrastructure, carbon reduction, and lower energy consumption are top priorities for today's Utilities. The communications network will need to not only facilitate advanced control and monitoring, but also support additional generation, transmission, marketing and service provisions. In addition to ensuring a flexible and secure network, M2M communication will be a key component of the Smart Grid, as a means to deploy wide-scale monitoring and control.
Against this backdrop, SMi's 3rd annual Telecoms for Smart Grids conference will cover the state-of-the-art theory, key strategies, protocols, applications, deployment aspects and experimental studies of communication and networking technologies for the smart grid. The two day programme will address topics ranging from architectures and models through to integration of plug-in hybrid vehicles and security. Essential information is provided to further progress in the field and to allow power systems engineers to optimise communication systems for the smart grid. Additionally current development of both UK and European communications infrastructures for Smart Metering, Substation Automation, and Distribution Network Upgrades will be discussed through key pilot projects, results and challenges, along with a view to next steps and conclusions.
The conference will give first hand insight and experience from Utilities on the progress and outcomes of trials in Smart Grid Communications technologies, such as:
Fibre to building feasibility
IT Infrastructure for electric mobility
4G for Smart Grid
Smart Communications in the Home
Privacy and security
Communications selection criteria
Cost benefit, roll out considerations
Experience with UK metering thus far
Integration with Renewable Energy Systems
Wireless IP Communications based on Wimax
Monitoring, Control and low latency considerations
Testing Long Range Radio
Teleprotection
CDMA 450 - European utility choses to deply its own private mobile network
Substation LAN and WAN design challenges
Data optimasation for IEC 61850 traffic over RF mesh network
Expert Speakers include:
Ashley C. Brown, Counsel to Greenberg Traurig, and Executive Director Harvard Electricity Policy Group, Harvard University
David Ross Scott, Industry Relationship Manager, Scottish Power
Denis O'Leary, Head of Smart Energy Technologies, ESB
Gordon Hewitt, ICT Project Manager, Scottish and Southern Energy
Marcus Smith, Solutions Architect, Cisco
Markus Hofsaess, Technology & Solutions, E.ON
Tim Manandhar, Low Carbon Solutions Design Manager, UK Power Networks
Erik Moll, Telecom Policy Advisor, Alliander
Giovanni Coppola, Innovation Manager, Enel Distribuzione SpA
Gunnar Hoffman, Manager of Technology Corporate R&D, RWE AG
Milo Broekmans, Senior Enterprise Architect, Stedin
Nigel Bessant, Project Delivery Manager, Scottish and Southern Energy
Sanna Atherton, Senior Project Manager, Western Power Distribution
For more information, visit http://www.smi-online.co.uk/2013telecomsforsmartgrids8.asp
Alternatively, contact Aaron Jackson on tel: +44 (0) 20 7827 6064 or email ajackson(at)smi-online(dot)co(dot)uk