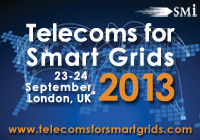 London (PRWEB UK) 4 June 2013
Questions remain of potential uncertainty and future developments in communications technology, with both challenges and risks in delivering a fit-for-purpose, secure system.
Our third annual conference, Telecoms for Smart Grids, will address the current development of both UK and European communications infrastructures for Smart Metering, Substation Automation, and Distribution Network Upgrades. We will be discussing key pilot projects with 11 first hand case studies revealing results and challenges, along with a view to next steps and conclusions.
The conference will give first hand insight and experience from the Utilities sector on business process models and technologies utilization, key areas include:

Fibre to building feasibility
IT Infrastructure for electric mobility
4G for Smart Grid
Smart Communications in the Home
Privacy and security
Communications selection criteria
Cost benefit, roll out considerations
Experience with UK metering thus far
Integration with Renewable Energy Systems
Wireless IP Communications based on Wimax
Monitoring, Control and low latency considerations
Testing Long Range Radio
Teleprotection
CDMA 450 - European utility choses to deply its own private mobile network
Substation LAN and WAN design challenges
Data optimasation for IEC 61850 traffic over RF mesh network
For more information, visit http://www.smi-online.co.uk/2013telecomsforsmartgrids8.asp.
Alternatively, contact Aaron Jackson on +44 (0) 20 7827 6064 or email ajackson[at]smi-online[dot]co[dot]uk.