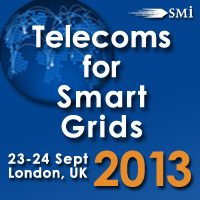 London (PRWEB UK) 1 August 2013
(Complimentary VIP Places for Utilities while places remain)
Contact Aaron Jackson on tel: +44 (0) 20 7827 6064 or email ajackson(at)smi-online(dot)co.uk
ESB has beaten European competitors to a €3.3m award towards groundbreaking research in to how the internet can improve energy systems. The funding will support further study of smart grids – electricity networks based on digital technology that allow two-way communication. This makes analysis of usage possible, which helps to reduce consumption. Meters that facilitate the grids will be introduced to Irish homes in 2017. According to Communications Minister Pat Rabbitte, "Ireland is at the leading edge in this area of the energy systems catching up with developments in the telecommunications area for smarter use of energy".
(Source: Irish Independent, 27 July, 'ESB gets €3.3m for smart grid research', http://www.independent.ie/business/irish/esb-gets-33m-for-smart-grid-research-29452535.html)
It is against this backdrop, that SMi's 3rd annual Telecoms for Smart Grids will address this recent news and more with the current development of both UK and European communications infrastructures for Utilities. The two-day programme will provide the ideal platform for discussion and debate over current and emerging projects to improve communications infrastructures, and lessons learned from pilot projects in the UK and Europe. The two-day conference programme features a line-up of 22 thought leaders and experts, including 11 Utility case studies, with speakers consisting of: UK Power Networks, Alliander, Scottish and Southern Energy, ESB, Western Power Distribution, Scottish Power, E.ON, RWE AG, Enel Distribuzione SpA, Stedin, and Eco Island among others.
Speaker Panel includes:

Gordon Hewitt, ICT Project Manager, Scottish and Southern Energy
David Ross Scott, Industry Relationship Manager, Scottish Power
Tim Manandhar, Low Carbon Solutions Design Manager, UK Power Networks
Nigel Bessant, Project Delivery Manager, Scottish and Southern Energy
Sanna Atherton, Senior Project Manager, Western Power Distribution
Denis O'Leary, Head of Smart Energy Technologies, ESB
Ashley C. Brown, Counsel to Greenberg Traurig, and Executive Director Harvard Electricity Policy Group, Harvard University
Marcus Smith, Solutions Architect, Cisco
Markus Hofsaess, Technology & Solutions, E.ON
Erik Moll, Telecom Policy Advisor, Alliander
Giovanni Coppola, Innovation Manager, Enel Distribuzione SpA
Gunnar Hoffman, Manager of Technology Corporate R&D, RWE AG
Milo Broekmans, Senior Enterprise Architect, Stedin
To view the full speaker line-up and completed conference programme, visit http://www.smi-online.co.uk/2013telecomsforsmartgrids8.asp.