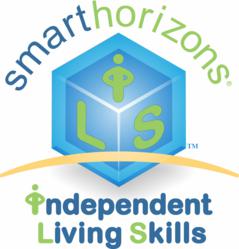 People are getting what they need, not what we think they need.
Pensacola, FL (PRWEB) September 29, 2011
Smart Horizons, the smart choice in innovative training solutions, today launched the newest feature of their online Independent Living Skills program. The customization feature allows organizations serving populations of youth and adults in transition the option of a customized training product. The product can also be combined with any number of the other training solutions offered by Smart Horizons, such as an accredited high school diploma program or career certification training.
"Customization allows us to tailor the program to specific learning needs of the students," said Steve Samaha, Director of Sales for Smart Horizons. "The Independent Living Skills program can be added to our occupational rehabilitation program that emphasizes critical job skills or it can dovetail with our career online high school to provide a complete turn-key approach to the students' learning needs."
The online Independent Living Skills program, launched in May, was originally created to meet the needs of organizations and agencies seeking to provide independent living skills to youth in transition, specifically to young people who are aging out of foster care or transitioning to independence from group home environments. The program content has since been adapted to serve the needs of adults in transition as well.
Organizations around the country are striving to provide independent living skills to youth and adults in transition, but not every group requires the same training. Dan Call, Business Development Manager for Smart Horizons, said, "We listen to our partners to find out what they need. We then create a package of courses that meets their needs. One size does not fit all, so this is an important service for our partners."
"People are getting what they need, not what we think they need," continues Call. "They do not need to purchase an imperfect mix of courses when they can select what they want from a wide variety of courses. Many of our partners service different demographics of people, so it is important to them that they have a custom catalog of courses their constituents will benefit from."
The Smart Horizons online Independent Living Skills program is housed on their secure NexPort Campus learning management system, which allows program administrators to track and report on student progress in real time.
About Smart Horizons
Smart Horizons is an online training provider based in Pensacola, Florida, that offers courseware development by experienced instructional designers, customized programs, learning management services, and superior media design. Designated as an Authorized Provider by the International Association for Continuing Education & Training (IACET), Smart Horizons offers Continuing Education Units (CEUs) for its programs that qualify under IACET guidelines. Smart Horizons, a division of Advanced Systems Technology, Inc., provides a wide range of training services, including content development and hosting, product delivery, student enrollment, student support, and record keeping. With innovative programs that are available 24 hours a day, 365 days a year, Smart Horizons is changing the way companies train their employees and enhancing the way individual learners achieve their educational and career goals.
###