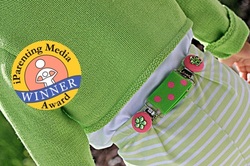 I wish Smartie Pants was available in the past, because I had to pay a fortune to have my children's school uniforms tailored to fit their slim waist.
(PRWEB) May 18, 2010
Smartie Pants™ (http://www.SmartiePantsShop.com), a patent pending kids belt, has won the iParenting Media Award for 2010 Excellent Products in the Accessories category.
Smartie Pants is a patent pending kids belt designed to combat droopy drawers. Unlike a traditional belt, decorative clips attach to the back of the garment; the elastic draws the clips together, cinching the waistband. Smartie Pants can be used with or without belt loops. One size fits all, just clip and go.
Three judges--including a licensed childcare facility/school, a product expert and a parent--tried and reviewed the Smartie Pants product. "The clips are well designed and we like how the elastic ribbon portion can be used with more than one set of clips. The bright colors attracted the kids, and we liked the wide variety of colors and patterns on the website. I wish Smartie Pants was available in the past, because I had to pay a fortune to have my children's school uniforms tailored to fit their slim waist."
"This product is made from very high quality materials and is very pleasing to look at. It is actually a great addition to a kids closet for the aesthetic appeal and for the main purpose of holding my children's pants up. The clips were extremely strong and held pants up at the house, park and school. This product was very easy to use and adjust if necessary."
"This product is easy to use. The patterning is both fashionable and appealing and it is designed to be used for boy or girl. Great versatility in the product. Well thought out." said the third iParenting Media Awards Reviewer.
In addition to these outside reviewers, Smartie Pants was evaluated by the iParenting Media Awards Executive Committee, which confirmed that Smartie Pants is now considered one of iParenting's Excellent Product award winners.
Parents love Smartie Pants because traditional belts can be cumbersome for little hands and frustrating for parents during diaper changes, with Smartie Pants there is no need to undo for potty time or diaper changes. Clips can be used with or without belt loops. The decorative clips and elastic are interchangeable to mix and match. Smartie Pants 5-piece sets start at $14.50 and additional clips start at $5.50
iParenting Awards, a Disney Interactive Media Group property, is part of Disney Online's network of family-focused Web sites, including Disney Family.com and FamilyFun.com.
iParenting Awards is the leading family products evaluation program that is committed to helping parents make informed decisions as they choose products for their family. The iParenting Awards' method for testing and evaluating products requires review by leading experts, parents and childcare providers, and each product is evaluated on numerous attributes such as quality and durability, among many others. The iParenting Awards product testing and evaluation practices ensure that the highest quality products offering the best value for families are recognized in the marketplace.
To view more iParenting Awards Top Product Picks, consumers can visit http://www.family.com/products. They can also learn more about iParenting Award-winning products by visiting http://iparentingmediaawards.com/winners.
Smartie Pants is based in Broomfield, CO. Invented by a mother of a petite toddler and out of frustration of traditional belts; she set out to combat droopy drawers. "Time and time again, even before I was a mom, I would hear the same complaint about children's pants, shorts and skirts, 'the length is perfect, but the waist is too big.' Adjustable waist pants are hard to find, kids belts are cumbersome for small hands and not all pants have belt loops." said Janice Stitzer, CEO and founder of Smartie Pants. Parents can find Smartie Pants online at SmartiePantsShop.com.
Media Contact
Janice Stitzer
Smartie Pants, LLC
(303)834-0487
info(at)SmartiePantsShop(dot)com
# # #