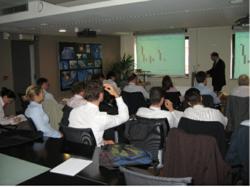 Mastering these three factors is the key to a Traders success. Nothing else will make you a top trader, not luck, not 'inside information' or anything else.
Dubai, UAE (PRWEB) February 28, 2012
Smartline Global CEO, Kyprianos Kyprianou, is launching the first three levels of his Traders Technical Analysis Training Seminars internationally in a webinar format. The webinars will be delivered in English and are designed to take the trader from any experience level (whether a complete beginner or an experienced trader) and train them to a profitable Technical Analysis level.
Each of the three levels of Technical Analysis training webinars cover separate areas and have specific benefits. The first webinar is titled "Three Tools to Recognize the Tops and the Bottoms of the Trends" with the benefit of understanding advanced techniques of Technical Analysis for more efficient trading on the Forex, Bond and Equity markets. The second webinar is titled "The Correct Money Management Based on Probabilities" with the benefit of mastering the most important tools of Technical Analysis with emphasis on trends and trend reversals. The third webinar is titled "The Human Psychology Behind Market Movements" with the benefit of learning a simple system to use for trading, leaving aside the Traders' emotions.
The first webinar is free and anyone interested in attending these Technical Analysis Trading webinars should visit the Smartline Global website and complete the contact form.
Before creating his trading methodology Mr. Kyprianou did an analysis of over 150 professional traders. He discovered that successful traders had 3 common traits, which led to their success. These were: (1) A precise technical system for making trading decisions. (2) Strict money management rules based on mathematics. (3) Psychological practices to maintain focus and self-control.
"Mastering these three factors is the key to a Traders success. Nothing else will make you a top trader, not luck, not 'inside information' or anything else. If you aren't reaching the highest levels of trading performance possible right now, it's because you haven't mastered these three factors," says CEO Kyprianos Kyprianou.
Kypriano's training is not a cookie-cutter system that can be computer programmed only to prove useless within a month. His training provides a complete knowledge of and ability to expertly use an arsenal of technical tools in a professional-level system from the most basic to advanced tools. Additionally, traders learn a scientific money management system for the best possible performance and how to customize the systems' decision-
making process based on psychological factors.
About Smartline Global
Smartline Global was founded in 1997 by CEO Kyprianos Kyprianou with offices in Dubai, UAE. He is the creator of the Smartline Investment Training Institute whose seminars provide a successful trading methodology that can be used in any market and for any time frame after their completion. They make the traders life easier by giving them a ready made system (method) to use that keeps the discipline in and helping to create a worry free trading life for the traders. Seminar attendees include Forex Traders, Equity Traders, Commodity Traders, Technical Traders, Proprietary Traders, Technical Analysts, Fund Managers, Portfolio Managers, Dealers, Brokers, Asset Managers, and Private Investors, regardless of economic or finance background. For more information visit http://www.smartlineglobal.com.
# # #