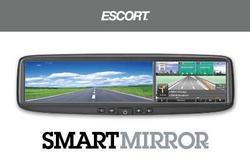 We know that ESCORT owners, as early adopters, look to ESCORT to keep them at the forefront of cutting edge technology
West Chester, Ohio (PRWEB) March 9, 2009
ESCORT Radar, maker of the world's best radar and laser detectors, announced today the release of the all new ESCORT SmartMirror™. The ESCORT SmartMirror™ is a complete rearview mirror with integrated GPS navigation powered by Navigon. The SmartMirror™ enables drivers to maintain a clutter-free windshield and keeps drivers' attention on the road and up to date on directions. "We know that ESCORT owners, as early adopters, look to ESCORT to keep them at the forefront of cutting edge technology," said Tim Coomer, VP of Marketing and Product Development. "The ESCORT SmartMirror™ allows our customers to maintain focus on their driving, where it should be, yet still offers them the most advanced navigation technology available" he added.
The new ESCORT SmartMirror™ provides all the features and advances of GPS navigation without the clutter and hassle of suction cups, mounting brackets and wires. More than a complete solution, the SmartMirror™ replaces the existing OEM rearview mirror, and once installed, the SmartMirror™ also works as a GPS navigation system that gives the driver real time direction and traffic information.
Navigating with the ESCORT SmartMirror™ is truly a new experience. Drivers will appreciate the Reality View™ feature from Navigon Mobile, which displays street level views of all major intersections, points of interest and interstate entrances and exits. This advanced feature displays a preview of what is ahead as if the driver were already there - with the Reality View™ feature, drivers see and interact intuitively as if they were standing right on the spot. Reality View™ means that there is no more guessing about what the display map lines and symbols mean - instead, displayed on screen is an actual representation of the real world location. And all directions, street names and points of interest are spoken with text-to-speech - audible callouts always let you know exactly where you are and what's ahead! The SmartMirror™ keeps you focused on driving.
Bluetooth® equipped, the ESCORT SmartMirror™ allows your calls (compatible phones) to appear on the display and to be answered hands free without physically accessing your cell phone. And the SmartMirror™ gives you the option upon arriving at your destination, to transfer your call from the SmartMirror™ back to your cell phone for uninterrupted conversation - from mobile to land with one push of a button. Or if you're in the middle of a call as you enter your car, simply press the display and your call is now hands free, handled by the SmartMirror™.
The SmartMirror is also compatible with an optional back up camera. With the back up camera installed, the screen automatically changes to show the driver what is directly behind them. Now drivers don't have to worry about blindly backing into obstacles.
The new ESCORT SmartMirror™ with integrated GPS Navigation, comes with the following feature set:

Advanced high-speed digital processing
Huge data memory capacity
2GB SD card slot for storing your personalized maps, pictures, and even e-books
Built-in GPS receiver with high-gain (16 channel) dual antenna design
Large 4" Touch screen LCD monitor with 16:9 aspect ratio
Integrated speaker
Built-in Bluetooth® functions
Hands-free phone service
Incoming caller ID displays right on the ESCORT SmartMirror™ screen
Call history
Manual or Auto call answering
Expandable Video inputs (2) with reverse camera input sensing
Navigation
Navigon Mobile Navigator
Lane Assistant and Reality View™ for intuitive, easy driving directions
Stunning 2D and 3D maps
Spoken street names via text-to-speech
Easy-to-operate user menus
Sight assisted map views that adapt to your personalized needs
The new ESCORT SmartMirror™ is now available and can be seen at EscortSmartMirror.com - or, can be ordered directly by calling 1.800.433.3487.
About ESCORT, Inc.
ESCORT Inc. is the leading manufacturer of high-performance radar and laser detectors. ESCORT manufactures products under the ESCORT, PASSPORT, SOLO, Vector and BELTRONICS brands. The company is headquartered in West Chester, Ohio with its principal manufacturing facility located in Mississauga, Ontario, Canada.
Editorial Contact:
Ron Gividen
513.870.8500
# # #