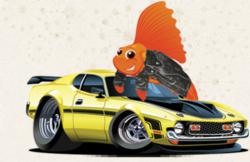 When I came upon the SmartMoney tips, a light bulb went off and I thought, 'People need to know this.'
New York, NY (PRWEB) May 29, 2012
RoadFish.com men's lifestyle and finance magazine urged readers to seek the advice of expert's tips if they are considering taking advantage of the 60-year low in mortgage rates by refinancing a home mortgage. SmartMoney.com released four tips for people thinking about refinancing their mortgages, suggestions that are aiming to make the process easier and hopefully save the borrower as much money as possible.
Ruth Simon of SmartMoney.com reported that mortgage rates hit a low last week of 3.84%, down from 4.22% in March and the lowest the U.S. economy has seen in 60 years. Simon states that due to the record-low rates, the time has never been better to refinance a home mortgage. The article states that nearly 20.5 million homeowners currently possess mortgages with a 5% interest rate or higher, and 12.9 million borrowers' rates are between 4-5%. However, Simon warns that it may prove difficult for responsible homeowners and borrowers—even ones with a good credit score and who make timely payments—to refinance mortgages due to low appraisals and increasingly strict lending measures.
To give borrowers who are considering a refinance some guidance, Simon offers four tips designed to help folks who are wading through the refinance process have an easier time, and save them the most money. The first tip is to repair one's credit score, so that the borrower can clean up any errors and get the report looking as good as possible. Borrowers are shooting for a score of 740 or higher to get the very best rate. Fair Isaac spokesman Anthony Sprauve is quoted as saying, "Someone with a higher score who misses a payment could take a bigger hit than someone with a lower score, because there's further to fall when they stumble." Assessing your report and score in advance and fixing mistakes could therefore be crucial in the refinancing process.
RoadFish.com's Senior staff writer is quoted as saying, "I am pretty astounded at how low the mortgage rates have dipped. I have lots of friends and family both house hunting and refinancing their mortgages, and I'm really happy for them because they are going to be getting some amazing deals. Even my parents and in-laws have refinanced their mortgages. The interest rates are hard to look at and not want to take advantage of them."
The above-mentioned SmartMoney article gives some impressive numbers on how much homeowners can save just by refinancing. The example was given that if a borrower took out a $400,000 mortgage at this same time last year, the rate would have been around 4.75%. That same person could save over $200 per month by refinancing their mortgage right now, with the current rates almost a full 1% lower than in May 2011. Over years, that 1% makes a huge difference and can save thousands of dollars. As an example, the article highlights a money manager who secured a 5.25% interest rate in 2010, when he first refinanced his Houston home. Given the lower rates this year, Lance Roberts is in the process of refinancing to a loan 1.25% lower than his previous one.
RoadFish.com believes that it would be in their best interests for readers who are looking to refinance their homes to peruse some professional tips on how to go about doing so. RoadFish.com's Senior staff writer is quoted saying, "When I came upon the SmartMoney tips, a light bulb went off and I thought, 'People need to know this.' The advice and suggestions in this article are something that I could see making a big difference in how somebody's refinancing experience goes. I really hope that people do their research, get some tips, and don't just rely on the fact that they had good credit a year ago."
The monthly and yearly averages of 30-year fixed-rate mortgages can be found on Freddie Mac's website. Data goes as far back as 1972. Looking at the past 5 years, it is quite easy to see the rates plummet, bottoming out this year. In 2007, the average for the year for a 30-year fixed-rate mortgage was 6.34%. In 2008, it was 6.03% and in 2009, 5.04%. The rate dipped even lower, to 4.69% for an overall average in 2010, and lower to 4.45% in 2011. If you took the average for the first four months of 2012, the average rate so far for this year is just 3.92%. Looking back at the oldest data on the site, 40 years ago, in 1972, the rate was 7.38% as a yearly average. There isn't even data old enough on the Freddie Mac site to get within 3% of what the incredibly low rate is in our current year.
About RoadFish.com
RoadFish.com is an online men's lifestyle and finance magazine targeted toward men in their 30's and 40's that have already attained a moderate level of success in life, and are striving toward more. It goes over current events of interest to this group, such things as exciting adventures, consumer interests, and professional car racing, as well as ways to make more and save more money. It is a publication owned by Purpose Inc.