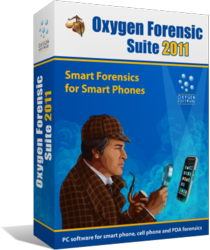 The new Oxygen Forensic Suite 2011 already provides iOS 5 data extraction and user applications analysis like iMessages in just several days after the official announcement of the Apple iOS 5.
Moscow, Russia (PRWEB) October 26, 2011
In this release Oxygen Forensic Suite is enhanced with support for even more mobile devices. Adding support for the newest Apple iOS 5, the company's flagship forensic software proves the status of the most up-to-date product for mobile device examination. The new Oxygen Forensic Suite 2011 already provides iOS 5 data extraction and user applications analysis like iMessages in just several days after the official announcement of the iOS 5.
Adding rooting support for Android 2.x and 3.x platforms, Oxygen Forensic Suite 2011 can now extract application data, Web cache, bookmarks, cookies, logins and passwords, Google Maps and geolocation cache information from a wide range of smartphones, communicators and tablets powered by Android OS. The new Forensic Android Rooting add-on is provided to access that data. With this update, Oxygen Forensic Suite 2011 can root Android devices running Android OS versions 1.6, 2.0 through 2.3.2 and 3.0 to 3.0.1.
Not all mobile users are carrying smartphones or communicators. A considerable number of mobile customers are using simpler, legacy phones. While legacy phones, due to their limited feature set, collect less information about users and their activities, it is still possible to extract valuable data out of even the simplest devices. Oxygen recognizes the need of forensic specialists to analyze legacy phones, and continues implementing support for classic platforms. The current update of Oxygen Forensic Suite 2011 adds support for Nokia Series 30 phones, extending its support of classic devices and boosting the total number of supported platforms even further.
About Oxygen Forensic Suite 2011
Oxygen Forensic Suite 2011 helps investigators and forensic specialists access and analyze data from a variety of mobile devices such as cell phones, smartphones, communicators, PDA and tablet PCs. Currently supporting more than 2,500 different models, Oxygen Forensic Suite 2011 covers the widest range of mobile devices compared to competition, and allows fully automated acquisition and analysis of supported devices.
The unique Timeline feature offers convenient, single-place access to all activities and movements performed by the user arranged by date and time. Investigators can track suspect location at every moment, build and map their historic routes, and clearly see all activities performed by the user at each location.
Another signature feature of Oxygen Forensic Suite allows investigators performing a global search on all devices ever analyzed with the toolkit. The global search quickly reveals any connections (e.g. common contacts, exchanged calls, texts or emails) between the phone owners.
Oxygen Forensic Suite 2011 guarantees zero-footprint operation, leaving no traces and making no modifications to the content of the devices, making it the tool of choice among government and law enforcement agencies, security services and forensic organizations in more than fifty countries.
Information Extracted with Oxygen Forensic Suite
Oxygen Forensic Suite extracts basic and extended information stored in the phone and on the SIM card, offering investigators complete and easy access to essential user, system, and application data from a single convenient interface. The phone forensics tool can extract contacts and address books, call and messaging history, calendar events, tasks, notes, and other organizer information. Logins and passwords to Web sites and email accounts can be recovered. Certain deleted text messages can be recovered and displayed.
Oxygen Forensic Suite can access the complete file system of both phone memory and the removable media card, and perform a physical acquisition analysis of available devices, often allowing investigators to recover information that was deleted. Application data including information from installed, pre-installed and third-party apps is analyzed. For devices equipped with wireless functions such as Wi-Fi and GPRS, the Wi-Fi traffic, Web connections and geolocation history are investigated. Other user information such as photos, videos, documents, and Lifeblog data including all events supplemented by geographic coordinates is also extracted.
A free 30-day evaluation version of Oxygen Forensic Suite 2011 is available at http://www.oxygen-forensic.com
Pricing & Availability
Oxygen Forensic Suite 2011 is available directly from the Oxygen Software Store for $799 per seat. Regional prices are set by Oxygen's Authorized Resellers and may vary. Contact TEEL Technologies (USA and Canada) or Data Duplication Ltd (UK and Europe) for local pricing and ordering information.
About Oxygen Software
Founded in 2000, Oxygen Software offers the most advanced forensic data examination tools for smartphones and mobile devices. The company is dedicated in delivering the most universal forensic solution covering the widest range of mobile devices running Symbian, Windows Mobile, Blackberry, iOS, and Android operating systems. As a result, Oxygen Forensic Suite consistently wins the highest awards in media, and occupies a spot in the top of the list in relevant tests for extracting more data than competition.
###