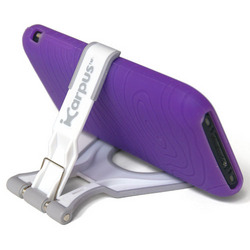 The design is so simple, it's ridiculous... I think this is handy accessory that you would find many uses for... A simple yet versatile stand that should last you a long time... This little stand has a strange name, but it's actually pretty darn cool.
New York, NY (PRWEB) September 7, 2010
Visual Factor, LLC announces the release of iCarpus, an accessory for hands-free viewing of portable devices. Its simple, compact design supports devices of ALL BRANDS, with or without third-party protective cases. Its firm grip enables horizontal and vertical positioning without adjustments. The spring-clamp design and non-slip edges provide superior protection and surface grip. Also functions as a headphone caddy.
It's one of the most common dilemmas for smartphone and mobile device users: switching from an old mobile device to a new one renders the old accessories obsolete, and requires entirely new equipment to work with the new device. iCarpus is a universal stand that can accommodate any brand of mobile device, and will stay with you through every upgrade.
For home, office, outdoors or on-the-go, the compact size of iCarpus allows users to take it anywhere. Position it in portrait or landscape orientation with no assembly, adjustment or aid of other objects.
Available in White.
Pink, Green and Graphite coming in late Fall, 2010.
iCarpus is available for $12.99 at Amazon.com (key word iCarpus).
# # #