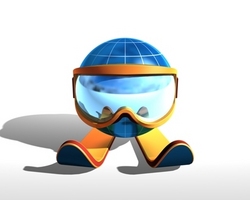 Hill Aevium is proud to announce the release of SkiQuest GPS -- the world's first voice guided GPS application built exclusively for smartphones. It has the potential to revolutionize the skiing experience in Colorado
Edwards, CO (Vocus) March 31, 2010
SkiQuest GPS, a new voice guided mobile navigation system created exclusively for use with smartphones including iPhone and BlackBerry, is helping skiers and riders make the most of every day on and off the slopes. Hill Aevium, an innovative and award winning marketing, web design and digital communications specialist located near Vail, Colorado designed all aspects of the software that included branding, website design and development, e-commerce, and the app itself for Integrated Device Applications with the goal of enhancing the ski experience for destination visitors.
"Hill Aevium is proud to announce the release of SkiQuest GPS -- the world's first voice guided GPS application built exclusively for smartphones. It has the potential to revolutionize the skiing experience in Colorado," said Linda Hill, President of Hill Aevium.
According to Ryan Serpan, Vice President of Interactive Strategy for Hill Aevium, "SkiQuest GPS is a great representation of the power of mobile technology and we were thrilled to be able to handle everything for the client, from branding to the mobile application itself. This product places tools and information directly in the hands of a target audience and positions the client company ahead of their competition."
SkiQuest GPS literally puts the mountain at skiers' fingertips. By combining GPS and smartphone technologies, SkiQuest GPS instantly connects skiers with what they want most, when they want it. Those looking for cruising corduroy, the thrills of double black diamonds, or shortest route back to the lodge for lunch can map their course turn-by-turn with SkiQuest GPS. In addition to trail descriptions and maps, the easy to use voice guided app allows users to plot routes by ability level, trail-to-trail or place-to-place. SkiQuest GPS can also be a lifesaver. If necessary, a GPS voice guiding system and an instant telephone connection to the resort's Ski Patrol guarantee a quick emergency response.
How skiers spend their time off mountain is just as important as maximizing slope time. SkiQuest GPS is a valuable tool for planning dining, shopping and nightlife activities. Search general categories like restaurants, ski shops, spas or by the name of a business. Comprehensive merchant profiles detail important information, display photos and offer descriptions of services. There's also a section displaying current specials, discounts and events, many available only to SkiQuest GPS users, plus a map showing the location of the business. View Hill Aevium's new SkiQuest GPS app at http://www.skiquestgps.com.
SkiQuest GPS has been available to skiers and riders at Beaver Creek and Vail, two of Colorado's most esteemed ski mountains, since January 2010 and more Colorado resorts are expected to be added in time for the 2010-11 ski season. With Hill Aevium's newly developed SkiQuest GPS, skiers and riders can turn smarter on and off the slopes. For more information about Hill Aevium services, visit http://www.hillaevium.com.
About Hill Aevium
Hill Aevium offers clients complete, integrated advertising, marketing and Internet solutions through services that include marketing and communications strategies, brand creation and evolution, distinctive messaging, custom software application development, and advanced Internet technologies. For more information on Hill Aevium, visit http://www.hillaevium.com or call 970.926.6700.
Media contact:
Ryan Serpan, Hill Aevium
Vice President, Interactive Services and New Business Development
720.570.0773
Ryan(at)hillaevium(dot)com
or
Vicky Nash, Public Relations Representative
Resort Trends, Inc. – Tourism & Resort Communications
970.948.4923
Vicky(at)ResortTrends(dot)com
###