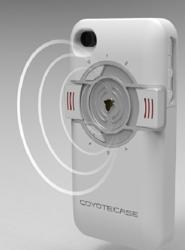 "I created the Coyote Case to protect my family and others and empower people to travel freely and with confidence."
- Jonathan Page, Founder and CEO, Coyote Case LLC
Memphis, Tenn. (PRWEB) October 12, 2012
After nine months in development, a revolutionary smartphone case that contains a piercing siren coupled with a Bluetooth-enabled security app is now available for pre-order on the crowdfunding website Indiegogo.com. Coyote Case deters would-be attackers while alerting others in the immediate area of the need for help with its 100+ decibel-piercing siren. At the same time, the Bluetooth-enabled Coyote Case security app automatically sends an emergency text message with the user's GPS location in the form of a map to pre-selected contacts.
Founder and CEO Jonathan Page invented the Coyote Case in response to a near attack of his niece late last year. His concern inspired him to dedicate personal resources and seek expert guidance and team members to help him realize his vision. Page was further motivated upon reading that one in four women who attend a four-year college will be the victim of a serious assault or rape, as recently reported by the U.S. Department of Justice. Page stated that "I created the Coyote Case to protect my family and others and empower people to travel freely and with confidence. As a husband and as a father of two young women, I felt there had to be something more I could do."
Coyote Case is ideal for young women, particularly college students, but not exclusively. It is a powerful and portable security system for children of all ages, young adults, and their concerned parents. It is sleek and durable for those who enjoy the outdoors, such as walkers, runners, hikers, and cyclists. It is also geared toward young professionals, city dwellers, and those who travel, even by air. Additionally, Coyote Case offers greater peace of mind for those who live in disaster prone areas, those with chronic health conditions, and the elderly who value their independence.
The patent-pending Coyote Case represents the collective work of a team of skilled mechanical, electrical and sound engineers, supply and manufacturing experts, and business consultants engaged by Page. Page himself is a former financial advisor and money manager turned passionate entrepreneur. Of note, the team has greatly benefitted from the ongoing mentorship of board member Hillary Barnhart, BSEE, MSIE, MBA, senior operations director of Applied Materials, a Fortune 500 global tech manufacturing company.
The team learned a lot from testing the first two prototypes and gathered valuable insights to improve the design, function and user interface. However, the proven printed circuit board that drives the siren and the power supply remain largely unchanged as tested in this final design. Andy Chick, principal of 2nd Look Studio in Nashville and a Consumer Electronics Show (CES) Innovations Award honoree created the final design (version 3.0) that is available for purchase on http://www.indiegogo.com/coyotecase. This new design also took into consideration several aspects of human behavior and ergonomics. "We assessed the human behavior in response to stress—particularly hand clenching—and designed the activation buttons on the case to be intuitive and quick to respond to the user," said Chick. "Equally as important, they are designed to respond to focused pressure and will not go off in everyday, active usage of your smartphone," he added.
The case module is comprised of a piezo buzzer element, printed circuit board, lithium ion batteries, Bluetooth 4.0 chip and a user interface capable of seven levels of customization by way of the switches on the back of the Coyote Case. This gives the user the option to choose—and to make adjustments on the fly according to their personal needs and preferences—for optimal convenience. The top switch controls how many activation buttons (zero/off, one button or two button) the user wants to depress to activate the case; the bottom switch sets the mode of the case (Full, Silent or Alarm-only). The side buttons are the activation buttons the user depresses when in need of help. The Coyote Case has a soft touch feel, radius edges and pillow back to fit comfortably into small or large hands. The sleekness of the case is comparable to other smartphone cases, adding less than 1/3" depth to the device while offering durable protection. The Coyote Case's protective features run on readily available lithium ion batteries provided with purchase.
Assembled in the U.S. of the highest quality polymers and resins, the Coyote Case will first be manufactured for the iPhone 4/4s and the new iPhone 5 in five colors options. Near-term plans include expedited Andriod model development should the $120,000 fundraising goal be met on indiegogo.com/coyotecase. The Coyote Case is available for an average of 40% less on indiegogo.com during the 45 day Indiegogo crowdfunding campaign ending November 26, 2012. The manufacturer's suggested retail price will be about $120 on all models when available in stores. Delivery of the pre-ordered Coyote Cases is estimated to be April of 2013. In addition, five percent of net Coyote Case profits will be set aside to support non-profit organizations and causes that help, empower, and care for women in crisis and their families as part of the 5% Coyote Community Giving Initiative.
Page further added, "As a father and concerned community member, I believe the Coyote Case can make a difference in helping protect those we love. It is this concern that makes this entrepreneurial effort worthwhile and I am hopeful it's something others can benefit from if and when needed."
About Coyote Case: Founded in late 2011 by Jonathan Page of Memphis, Tenn., Coyote Case LLC is committed to helping protect and empower individuals to travel freely and with confidence. Its first product of the same name, Coyote Case is a revolutionary smartphone case that protects the user. It contains a piercing 100+ decibel siren coupled with a Bluetooth-enabled security app. Coyote Case deters would be attackers while alerting others of the need for help in the immediate area while automatically sending an emergency text message with the users GPS location to pre-set contacts. The team has recently launched a crowdfunding effort on Indiegogo to manufacture its iPhone 4/4s and 5 cases as designed and to help accelerate Android case development. In addition, five percent of net profits will be set aside for charitable efforts. More information can be found at http://www.coyotecase.com.