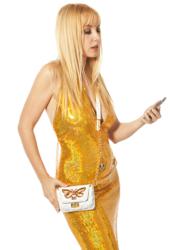 It is the new 'it' bag for smartphone enthusiasts
Miami, FL (PRWEB) May 02, 2012
Cho Cho Design House announces the debut of its high fashion smartphone bag. With its revolutionary high-fashion-meets-high-function design, it is the first bag of its kind that is customized to hold smartphones. The bag features a secret window on the back, making it easy to check phone calls and messages without having to take the phone out of the bag. It also features a pair of adjustable and removable gold chain straps, which secure the smartphone at your side for easy access and offers three different ways to wear the bag. The smartphone bag is made of genuine lambskin leather and features Swarovski™ crystals.
The Cho Cho smartphone bag was created by Canadian-born, Miami-based designer and international recording artist, Aasha. As a busy recording artist and new mother, Aasha was inspired to create a bag that would allow her to easily have her smartphone by her side with her hands free to do other things. The name "Cho Cho" came from the Japanese word for butterfly, which symbolizes the freedom and beauty of the bag. The design was also inspired by the concept of a "minaudiere," a bag that carries the essentials without being bulky or awkward like large bags.
"It's the perfect bag for dinners, parties and everyday business. It can be worn with high fashion or casual styles," Aasha says. "The Cho Cho smartphone bag is the new 'it' bag for cell phone enthusiasts. And it makes a great Mother's Day gift for stylish moms."
For more information or to order the new Cho Cho smartphone bag, visit http://www.chochobags.com.
Media Contact:
Nancy Leigh
561-789-3300