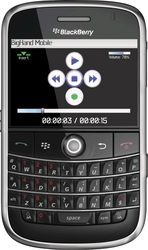 London, UK (PRWEB) December 5, 2008
BigHand, the market leading developer of digital dictation workflow systems for the legal community, today announced the most advanced and complete set of mobile dictation capabilities yet available within the digital dictation market. The update is the 3rd iteration of BigHand Mobile and now offers the most comprehensive & flexible suite of Smartphone features when set beside competing solutions. BigHand Mobile (BlackBerry® Edition) recently won Mobile Product of the Year at the CNet Business Technology Awards 2008.
Jonathan Carter, BigHand's Client Solutions Director, commented: "This 3rd edition is the only offering within the market that truly extends the power and flexibility of an enterprise DDS workflow product onto the mobile platform. While competing systems on the market offer a variety of differing second generation features, some without progress visibility and others with only one send option etc, no other digital dictation vendor is able to offer this complete set of advanced workflow features across the mobile environment. With some suppliers just completing 2.0 versions, it is great to move ahead again with this 3rd generation of our Mobile Edition."
Features that have been added to the core BigHand Mobile functionality include:

BigHand Mobile (BlackBerry Edition) now includes live status updates on whether work is in-progress (and who with) and whether it has been completed. Multiple priority options and unlimited send options also extend full enterprise DDS workflow to the BlackBerry platform. In addition 'one click recording', recording when the SD card is fully encrypted, multi-language support including U.S. English, English, French and German, ability to deploy password from BES, improved default keys for reduced keyboards (e.g. BlackBerry Pearl), 'Send All' option, and full support for the BlackBerry Bold.
BigHand Mobile (Windows Mobile Edition) now includes the non-RIM specific enhancements above as well as an extended set of screen resolutions for a variety of Windows Mobile devices.
In addition to the previously announced unique support for .caf and .aiff format allowing dictations to be submitted from an iPhone, BigHand Mobile now offers full support for various .amr formats allowing dictations to be sent from any e-mail capable Smartphone such as Palm (e.g. Palm Treo 680 Smartphone) and Symbian devices (e.g. Nokia E71, Samsung D900). The update also includes enhanced processing of multiple attachments, logging if no attachment is included, and superior fail resilience.
The BigHand Web Client has now been updated with automatic selection of appropriate language setting with ability to override (U.S. English, English, French and German), VPN with AD authentication, and support for IE8.
Finally the new System Administration console now includes advanced mobile user mapping, licensing for & information about Mobile users, as well as instant user/email association
Contact:
Dan Speed, Marketing Director, BigHand. Tel: +44 (0) 20 7940 5945
About BigHand
BigHand is based out of Chicago, London, Sydney and Toronto. BigHand is the leading digital dictation vendor in the global professional services sector. BigHand3 was awarded 'Best of Breed System of the Year' at the Legal Technology Awards for 2008, and BigHand Mobile (BlackBerry Edition) was voted 'Mobile Product of the Year' at the CNET Business Technology Awards 2008. BigHand has also been nominated in the Sixth Annual Law Technology News (LTN) Awards for 2009 as 'Dictation System of the Year' and 'Mobile Tool of the Year'. Further information is available at http://www.bighand.com
###