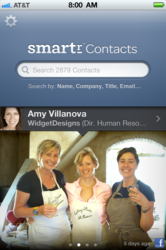 The real power (of Smartr) comes in the mobile app. The interface is clean and simple – a simple search box and some rotating thumbnail images of people. In that sense, it's no longer a contacts "list," but instead a database. -Sam Diaz / ZDNet
San Francisco (PRWEB) January 24, 2012
Xobni, the leader in email and relationship management, today introduces the availability of SmartrTM Contacts for iPhone. This announcement comes off the heels of the launch of Smartr Contacts for Android and Smartr Inbox for Gmail late last year, when tens of thousands of users requested to be notified when the iPhone product was ready for download. All Smartr products are free and available for download immediately at Xobni.com, and iPhone, Android, BlackBerry, Chrome, Firefox and Safari app stores.
Smartr Contacts is a free app now available for iPhone that brings the ultimate in relationship management to your phone. The Smartr Cloud automatically extracts all contacts from email data (currently Outlook or Gmail), as well as data from social networks, and makes them easily searchable. A complete profile is created for each contact, including a photo, job title, phone numbers, company details, email history, common contacts and info from Facebook, LinkedIn and Twitter. All contacts are ranked by importance, not alphabetically, so the most important people are at the top.
Today's announcement puts Xobni products (Xobni and Smartr-branded) on all major platforms – Gmail/Google Apps and Outlook for email, and Android, BlackBerry and iPhone for mobile. These products aim to improve the way you find and manage your contacts and relationships by discovering all the people you've ever emailed, called or SMS'd and instantly provides a full profile for each contact by leveraging the Smartr Cloud solution. Once the product is downloaded, Xobni automatically displays each person's photo, job title, phone numbers and contact info, company details and updates from social networks. These rich profiles help you better understand your relationship with each contact, how you know them, when you last communicated, and whom you know in common.
"(Smartr) is a nice productivity add-on for Gmail – but the real power comes in the mobile app. The interface is clean and simple – a simple search box and some rotating thumbnail images of people. In that sense, it's no longer a contacts "list," but instead a database. And given we are usually looking for someone when we open our Contacts, it's definitely a smarter way to manage more than 8,000 people" wrote Sam Diaz for ZDNet about Smartr Contacts at launch of the Android app.
To see a video of the Smartr Contacts for iPhone app in action, visit http://vimeo.com/smartr/iphone or http://www.xobni.com.
About Xobni
Xobni ("inbox" spelled backwards) is a San Francisco startup that makes your inbox and address book smarter by bringing together your individual exchanges with social media content to provide a complete view of all your contacts in one place. Xobni, and its Smartr product line, discovers all the people you've ever exchanged emails, calls or SMS' with and instantly provides a full view of each contact, complete with their photo, job title, company details, email history as well as updates from LinkedIn, Facebook and Twitter. Xobni's first product – Xobni for Outlook - launched publicly in 2008 and the first mobile product for BlackBerry in 2010 – and together have had over 10 million downloads. Xobni is available for Outlook and BlackBerry and Smartr for Gmail, Android and iPhone. Xobni is funded by Khosla Ventures, RRE Ventures, Cisco Systems, BlackBerry Partners Fund, First Round Capital and others. For more information, go to xobni.com.
###