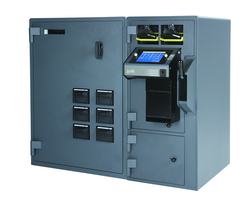 The typical Return-On-Investment for a cash management safe is under 12 months and there is a model for just about every size of business today
Montebello, CA (PRWEB) April 22, 2009
Socal Safe Company, an industry leader of safe and cash management systems since 1915, announces their new line of smart safe cash management systems that can show an ROI and save a company thousands of dollars each year. Socal Safe is now a distributor of the entire line of Tidel Engineering, L.P.'s leading edge electronic cash management products.
These smart safes can now read notes, dispense cash and loose coin, and generate safe contents and user reports remotely. These high security features are designed to reduce company cash shrinkage, drastically reduce employee hours, virtually eliminate the need of a company's counting room and provide a complete solution for employee cash accountability.
"The typical Return-On-Investment for a cash management safe is under 12 months and there is a model for just about every size of business today," said Pat Johnson, Vice President of Socal Safe Company. "Once the safe has paid for itself, it is almost like it is making you money. We really are at a new age of what a safe can do for a company." In years past, a safe was just a way to protect your valuables, but today, smart safes are designed to save a company money and to protect your valuables.
The addition of the Tidel product line complements SoCal Safe's already industry leading line of high security safes, jewelry safes, residential safes, and business safes. "The Tidel line brings the next generation of safes to the SoCal family," said Eric Mueller, President SoCal Safe. The Tidel safes allow for more control of a customer's cash by limiting the handling of cash by employees, dispersing only needed cash, and identifying counterfeit bills.
To learn more about how these new smart safes can save your company money, we invite you to contact Socal Safe Company for a free detailed ROI analysis.
About Socal Safe Company
Socal Safe Company has been providing the nation with the highest quality safes and security equipment since it opened in 1915. Our company has continuously met its goal of delivering premium customer service with 100% customer satisfaction. Socal Safe has been designing and manufacturing products for cash and property security and robbery prevention, as well as products for the banking, jewelry, restaurant, and retail industry for almost 100 years. Socal Safe provides 24-hour, seven-day customer service and support. Information about the company and its products may be found on the company's website at http://www.socalsafe.com.
###