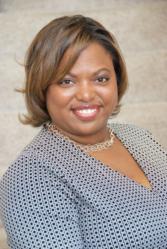 This is a way to get simple, practical, actionable information into their hands FAST!
Emeryville, CA (PRWEB) January 05, 2012
Smart Simple Marketing, a San Francisco Bay Area marketing coaching firm, will be featuring industry experts over the course of 2012 to offer free, ten minute "coffee break" interviews. These interviews will provide expert marketing advice to small business owners and service professionals who want to increase their profits and get new clients this year.
Sydni Craig-Hart, the founder, said, "Small business owners are looking for actionable and practical ideas that they can put into place right away to get new clients or increase their profits. They don't always have 45 minutes or an hour to spend learning from their mentors. This is a way to get simple, practical, actionable information into their hands FAST!"
Every Thursday, starting January 12, Craig-Hart's weekly "Take 10" coffee break will be posted on the Smart Simple Marketing blog. In it, she'll interview an industry expert on a specific marketing topic to give business owners an action plan that they can implement right away. The interview will be recorded and posted on the Smart Simple Marketing Podcast channel.
Some of the professionals who will be featured on these short interviews include experts in social media, search engine marketing, organization, email marketing, public relations and many more.
Craig-Hart said, "I'm really excited about the talent and knowledge our experts have! Each of these short interviews will tackle a specific topic, like how to get corporate clients, optimize your website or create more visibility online and provide the listener with a simple plan they can put into practice right away. It's a great opportunity for time-starved entrepreneurs to put an effective marketing strategy in place to start the new year off right."
Those interested in gaining access to these free interviews can subscribe to the blog or podcast channel.
About Smart Simple Marketing
Smart Simple Marketing was founded in 2005 as a marketing virtual assistance firm. Today they are a full-service marketing coaching and consulting firm, specializing in helping small service professional organizations to quickly and effectively create more money in their business and gain new clients. They have a series of do-it-yourself tools, group and individual coaching plans available. For more information, contact them through their website or by calling toll-free 800-283-0954.
###