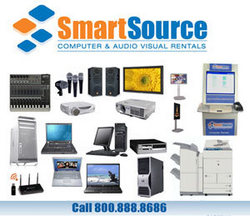 Our local branch operations in Texas, New Orleans & Florida have technology rentals in stock and available for disaster & emergency rentals along the Gulf Coast related to hurricanes or other natural disasters
New Orleans, LA (PRWEB) July 12, 2010
SmartSource Rentals has a multi-million dollar inventory of technology rental equipment available to get any business back up and running fast and efficiently when disaster strikes. Computers, printers, servers, and other technology products are available for rent Nationwide in the event of a flood, fire, hurricane, or other disaster. Computer rentals can be configured in advance with the software your business needs, delivered to your location or set up onsite by trained technicians. SmartSource currently has 24 company owned branch locations and a nationwide network of leading technology rental equipment ready for rent in the event of a disaster.
Why choose SmartSource Rentals when disaster strikes? The company has direct experience working with government agencies and businesses during disaster and emergency situations. The SmartSource Orlando Branch Operation worked with the states of Florida & Mississippi to ensure technology rental equipment needed to assist in the Hurricane Katrina relief effort reached a Mississippi airfield successfully after complications with early delivery points due to closures from the storm. Immediately after the September 11th tragedy, SmartSource was called upon to provide rental equipment to replace huge amounts of technology products that had been destroyed in the disaster. Pulling from its multi-million dollar rental inventory, SmartSource never ran out of disaster rental equipment, and its fleet of local vehicles and technicians were able to navigate bridges and tunnels that larger vehicles often couldn't access. More recently, SmartSource New Orleans Branch Operation provided rental equipment for a law firm working locally near the Gulf Coast Oil Spill. As the Gulf Coast disaster continues to unfold, computer rental equipment is available at a moments notice for federal, state, and local agencies as well as other businesses, legal teams, or law firms that may need to operate in the Gulf region.
A natural disaster such as a hurricane, flood, or fire can bring down a business network or destroy computer equipment in a moments notice. Dealing with this type of disaster is difficult enough without the added stress of figuring out how to get your business back up and operating as quickly as possible. Renting computer and technology equipment from SmartSource can get your business back up and running fast, giving you one less thing to worry about in the wake of a disaster. SmartSource can provide everything from a few laptop computer rentals for employees to work remotely, to complete temporary office setups and emergency operations centers including computers, servers, and copy machines.
Disaster Rental Technology Equipment & Solutions can include:

Laptop & Workstation Replacements – Computers pre-loaded with Windows, MS Office, WiFi or other software can be rented by the day/week/month
Servers & Computer Networks – Set up a temporary network of computers connected to a server to share files and store information
Temporary Office Setup – Configure a temporary office complete with workstations, printers, copy machine, fax, and internet
Enterprise Level Technology Rental – Relocate an entire floor or large department with hundreds of computers, complex server needs, networked printers, and more
Legal Rentals – Document scanners, display monitors, and other litigation support technology for legal teams of any size in any location
If you need to replace computer & technology equipment that has been destroyed in the wake of a disaster, set up an emergency operations center or temporary office for staff and onsite teams working remotely in a new location, consider rental technology and equipment from a company with experience working in emergency and disaster situations: SmartSource Computer & Audio Visual Rentals.
About SmartSource Computer & Audio Visual Rentals
Founded in 1984 and formerly known as Rent-a-PC, Inc., SmartSource Computer & Audio Visual Rentals serves broad-based corporate IT, association, professional AV and tradeshow technology rental needs. The company is widely recognized for its outstanding customer service, technical expertise, geographic reach, breadth of product, and end-to-end solution. Its extensive line features brand name products from Apple, Dell, HP/Compaq, IBM, NEC, Eiki, Meyer, Stumpfl, and others. Among its products are computers, servers, copiers, professional AV equipment, LCD and plasma monitors, kiosks, digital signage and video walls. SmartSource employs over 250 including over 100 field technicians. Its 24 strategic locations are in: Anaheim, CA; Atlanta, GA; Boston, MA; Chicago, IL; College Station, TX; Dallas, TX; Englewood Cliffs, NJ; Eugene, OR; Ft. Lauderdale, FL; Las Vegas, NV; Long Island, NY; Los Angeles, CA; New Orleans, LA; New York, NY; Orlando, FL; Philadelphia, PA; Phoenix, AZ; Portland, OR; Queens, NY; San Diego, CA; San Francisco, CA; Seattle, WA; St. Louis, MO and Washington, DC. For more information, visit: SmartSourceRentals.com
About Kirtland Capital Partners
Kirtland Capital Partners is a relationship-oriented private equity firm focused on accelerating the growth of middle-market companies by leveraging its internal operating, financial and strategic resources. For more than 30 years, Kirtland has executed a disciplined investment strategy that has created long-term value in its portfolio companies and delivered superior returns to its investors and management teams. Kirtland invests in niche manufacturing, distribution and business service companies with potential for growth organically and/or through strategic acquisition. The firm has $293 million of capital under management from institutional and individual investors. Kirtland is known for the strong partnerships it builds with its operating management teams and the experience of its professionals. For more information, visit: KirtlandCapital.com
###