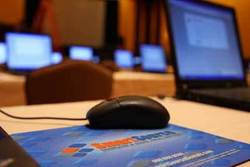 Utilizing a nationwide network of strategic office locations combined with an inventory of complementary technology services & solutions parallels the direct needs of national exhibiting companies and organizations
Glendale Heights, IL (PRWEB) May 17, 2010
SmartSource Computer & Audio Visual Rentals (Hauppauge, NY), a leading provider of computer and audio visual technology rentals to the Tradeshow and Events Market, announced today that Robert Baruch has been named Account Manager in Lead Retrieval Services in the SmartSource Chicago branch operation. Baruch brings specific, high level expertise surrounding enterprise class lead retrieval solutions used by top companies across diverse industries. His presence underscores SmartSource's continued expansion into the Exhibit & Events industry under the leadership of CEO Mike McClernon.
Baruch notes, "I am very excited to begin working with SmartSource Rentals in Lead Retrieval Services. Utilizing a nationwide network of strategic office locations combined with an inventory of complementary technology services & solutions parallels the direct needs of national exhibiting companies and organizations."
CEO Mike McClernon sees a synergy between the technology rental solutions and services currently offered by SmartSource to larger corporate clients, and the more specific solutions required by its clients in the Exhibit & Events industry. He adds, "SmartSource is committed to adding new talent and resources in a variety of areas and strategic locations. Having members with direct experience and knowledge of the industries that our company serves sets us apart from any other provider, and allows us to continue our commitment to excellence."
Chicago, IL is home to the nation's largest convention center, McCormick Place, attracting over 3 million annual visitors and located just minutes from downtown. In addition, the city has a large, diverse economy that is home to more than 400 major corporate headquarters, including 29 Fortune 500 company headquarters.
About SmartSource Computer & Audio Visual Rentals
Founded in 1984 and formerly known as Rent-a-PC, Inc., SmartSource Computer & Audio Visual Rentals serves broad-based corporate IT, association, professional AV and tradeshow technology rental needs. The company is widely recognized for its outstanding customer service, technical expertise, geographic reach, breadth of product, and end-to-end solution. Its extensive line features brand name products from Apple, Dell, HP/Compaq, IBM, NEC, Eiki, Meyer, Stumpfl, and others. Among its products are computers, servers, copiers, professional AV equipment, LCD and plasma monitors, kiosks, digital signage and video walls. SmartSource employs over 250 including over 100 field technicians. Its 24 strategic locations are in: Anaheim, CA; Atlanta, GA; Boston, MA; Chicago, IL; College Station, TX; Dallas, TX; Englewood Cliffs, NJ; Eugene, OR; Ft. Lauderdale, FL; Las Vegas, NV; Long Island, NY; Los Angeles, CA; New Orleans, LA; New York, NY; Orlando, FL; Philadelphia, PA; Phoenix, AZ; Portland, OR; Queens, NY; San Diego, CA; San Francisco, CA; Seattle, WA; St. Louis, MO and Washington, DC. For more information, visit: SmartSourceRentals.com
About Kirtland Capital Partners
Kirtland Capital Partners is a relationship-oriented private equity firm focused on accelerating the growth of middle-market companies by leveraging its internal operating, financial and strategic resources. For more than 30 years, Kirtland has executed a disciplined investment strategy that has created long-term value in its portfolio companies and delivered superior returns to its investors and management teams. Kirtland invests in niche manufacturing, distribution and business service companies with potential for growth organically and/or through strategic acquisition. The firm has $293 million of capital under management from institutional and individual investors. Kirtland is known for the strong partnerships it builds with its operating management teams and the experience of its professionals. For more information, visit: KirtlandCapital.com
# # #