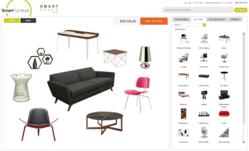 SmartSpace is an innovative web based design tool aimed at radically improving how customers shop for and purchase furniture.
Chattanooga, TN (PRWEB) April 03, 2013
Today SmartFurniture.com announced the launch of SmartSpace™, an innovative web based design tool aimed at radically improving how customers shop for and purchase furniture. SmartSpace is the next generation of the Company's Design on Demand® platform. It is the result of more than a decade of research, development, and working with customers to enhance the traditional furniture shopping experience.
  
SmartSpace enables customers to:

design and customize furniture to each customer's unique needs and preferences
combine multiple pieces of furniture in the same context to determine how the customized furniture appears together
use thousands of furniture products to decorate home and office environments
augment reality by using images from the customer's mobile device or computer to see what furniture products look like in the customer's own space
save or edit the SmartSpace or add the items to the customer's shopping cart with one click 
share the customer's SmartSpace via SmartFurniture's Design Community or the customer's Pinterest, Twitter, Facebook, or Google+ account .
"One of the most basic problems people have when shopping for furniture is that they cannot see what new furniture will look like in their own space until they have bought an item and brought it into their homes," said T. J. Gentle, President & CEO of SmartFurniture.com. Gentle added, "From the very beginning, our purpose in developing SmartSpace has been to show customers exactly what they are buying and enable them to see what a particular item will look like in the context of their own space."
SmartFurniture.com is a technology leader in the internet retail industry, pioneering what it calls "Design on Demand." By combining internet applications, mass-customization production, and partnering with some of the world's best furniture manufacturers, the company's unique Design on Demand experience means that Smart Furniture adapts to you (the customer), your style, and your personality - rather than the other way around. In 2001, the company launched the internet's first custom design configuration tool which featured Smart Shelves®, its signature product line. In 2008, the company extended its Design on Demand platform to include products from leading furniture brands such as Herman Miller, Knoll, Steelcase, Hon, BDI, Ekornes Stressless, Kartell, and many others - making it possible for customers to pick and choose the features and fabrics they want while being able to actually see how those combinations will appear. With the launch of SmartSpace today, SmartFurniture.com believes that it has taken a big step forward towards its goal of providing customers with best furniture shopping experience available anywhere.
SmartSpace was developed to enhance how customers shop today. One critical element for the SmartSpace development team was to ensure that it integrated seamlessly with today's social media networks. "Along with SmartSpace's unique visualization capability comes a social aspect," says Gil Cayabyab, Vice President of Marketing. Cayabyab added, "Users can save their SmartSpaces, publish them in the SmartSpace Design Community, and share them with friends via email or on social networks like Pinterest, Facebook, and Google Plus."
Karen Culp, Vice President and Creative Director added, "It was important that we not only make SmartSpace simple and fun to use, but that we include a collaborative element by integrating social media." Culp continued, "The social and collaborative elements open up a whole new aspect of creativity. If someone is looking to upgrade the furniture in her living room, she can use SmartSpace, upload a picture of her living room, and begin adding furniture such as a new sofa or chair and a coffee table into her SmartSpace. She can play around with different sofas, change the upholstery color, match the fabric on the sofa to her current furniture and the other furniture she is considering in her SmartSpace, and save her new SmartSpace living room. Now she can share her SmartSpace with her friends via Pinterest, Facebook, Twitter and more. Her friends can give her feedback on her new living room. Now she knows that it looks awesome to her friends as well as to her, and she feels great about the furniture she's chosen."
SmartFurniture.com is making the beta application available to its customers today, and the company has a list of new features and enhancements planned for SmartSpace in the coming months. To learn more or create a SmartSpace, visit http://www.smartfurniture.com/smartspace.html.  
About SmartFurniture.com: Smart Furniture® brings custom design to a whole new market ... everyone. As the industry leader in Design-on-Demand, Smart Furniture empowers customers to customize furniture and spaces quickly and easily. Promoting personalization through product design, technology, and a passion for customer service, Smart Furniture continues to earn industry-wide acclaim and dramatic customer growth. For more information call 888-GO-SMART or visit http://www.smartfurniture.com.