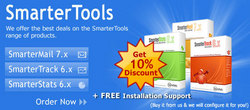 CybersitesIndia is a Microsoft Gold Certified Partner with competency in Hosting Solutions. We specialize in Microsoft Web Hosting Solutions, offering our customers quick and reliable technical support capabilities…
(PRWEB) March 22, 2011
Cybersites India Technologies Pvt. Ltd, a company specializing in hosting solutions, today announced its partnership with SmarterTools Inc, an information technology management software company that builds applications to help companies communicate, measure, and support their worldwide business operations.
"As a SmarterTools partner ,Cybersites India will now offer the SmarterTools software bundle as an add-on to its dedicated server and virtual private server (VPS) offerings at no additional cost. This will help our customers adopt these excellent products at no cost and they can upgrade as their business grows," said Gurdeep Singh, Chief Technical Officer for Cybersites India.
Valued at $800, the software bundle includes professional versions of the SmarterMail mail server, SmarterTrack help desk and SmarterStats Web log analytics and SEO software. The partnership also allows Cybersites India to offer affordable pricing for SmarterTools software upgrades.
"SmarterMail and SmarterTrack are two very popular products within the Web hosting community," said Singh. "In fact Cybersites India's shared hosting customers have already experienced the SmarterMail email server software and its benefits as we have been providing Web hosting and email solutions powered by SmarterMail for quite some time now."
The SmarterMail mail server offers a simple and powerful email solution that integrates seamlessly with most popular email clients, and mobile devices. SmarterMail also provides web-based email access, spam filtering, and calendaring.
SmarterStats provides customers complete SEO and web log analytics, customizable reporting and assists website owners with developing and tracking their marketing activities.
SmarterTrack is a powerful help desk application built for tracking, managing, and reporting on customer service and communications, including sales and support issues.
Cybersites India helps organizations extend their IT infrastructure across cloud hosting, dedicated and VPS hosting infrastructure and solutions. By utilizing Cybersites India's hosting solutions and the SmarterTools software suite, customers can now have access to innovative tools and rock bottom prices.
###