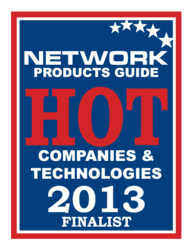 "It's an honor to be named a finalist by Network Products Guide for this esteemed award. This further validates our position as a leading CMMS provider that places our customers first."
-- Paul Lachance, President and CTO of Smartware Group
Center Harbor, NH (PRWEB) April 16, 2013
Smartware Group, Inc., producer of Bigfoot Computerized Maintenance Management Software (CMMS), has made the Customer Satisfaction finalist list for the 8th Annual 2013 Hot Companies and Best Products Awards. Sponsored by Network Products Guide, these industry and peer awards are the world's premier information technology awards honoring achievements and recognitions in every facet of the IT industry. Winners will be honored in Las Vegas on Tuesday, May 7, 2013 during the 8th annual dinner and presentations.
The Bigfoot CMMS solution has satisfied the enterprise needs of maintenance professionals all over the world by pairing an intuitive, easy-to-use interface with powerful functionality, including Asset Maintenance, Preventive & Predictive Maintenance, Parts Inventory, Work Orders, Purchasing, Built-in Reporting and Analysis, and "On-the-Go" Mobility. Bigfoot CMMS allow users to implement the solution quickly for quick results, often in a matter of weeks.
Smartware Group is also known for its excellent customer service and maintains a 90 percent retention rate. The company aspires to respond to inquiries and issues as quickly as possible to ensure high customer satisfaction, the category which included Smartware Group as a finalist. The company also regularly provides customers with free videos and documentation, and incorporates customer requests in product upgrades, among other services.
An annual achievements and recognition awards program with active participation from a broad spectrum of industry voices, the coveted annual Hot Companies and Best Products program encompasses the world's best in organizational performance, products and services, executives and management teams, successful deployments, product management and engineering, support and customer satisfaction, and public relations in every area of information technology.
"It's an honor to be named a finalist by Network Products Guide for this esteemed award," said Paul Lachance, President and CTO of Smartware Group. "This further validates our position as a leading CMMS provider that places our customers first. It shows when our customers regularly report on saving hundreds of thousands of dollars and as much as 40 percent annually in maintenance costs, and it shows when they stick with us for the long haul."
About Smartware Group Inc.
Smartware Group, Inc., headquartered in Center Harbor, N.H., develops and services Bigfoot CMMS for a variety of business environments, from data centers to manufacturing plant floors to convention centers and stadiums.
Bigfoot CMMS manages maintenance and uptime at diverse facilities. Since 2002, Bigfoot has helped more than 1,500 customers worldwide improve facility and equipment maintenance operations with advanced capabilities that include preventive maintenance (PMs) and predictive maintenance, work order scheduling, maintenance requests, asset life cycle management, parts replacement inventory, and built-in reporting. Bigfoot CMMS's native functionality paired with its intuitive design allows maintenance professionals to implement the solution and get results quickly, often in a matter of weeks. To learn more about Bigfoot CMMS, visit http://www.bigfootcmms.com today.
About Network Products Guide Awards
As industry's leading technology research and advisory publication, Network Products Guide plays a vital role in keeping decision makers and end-users informed of the choices they can make in all areas of information technology. You will discover a wealth of information and tools in this guide including the best products and services, roadmaps, industry directions, technology advancements and independent product evaluations that facilitate in making the most pertinent technology decisions impacting business and personal goals. The guide follows conscientious research methodologies developed and enhanced by industry experts. To learn more, visit http://www.networkproductsguide.com.