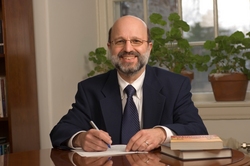 I am drawn to St. Mary's College of Maryland because of its commitment to the goals of accessibility, inclusiveness, meritocracy, and sustainability—the central aims of public education in the setting of a residential liberal arts college.
St. Mary's City, MD (Vocus) March 11, 2010
The St. Mary's College of Maryland (SMCM) Board of Trustees today named Dr. Joseph R. Urgo as the college's next president. He will join the college July 1, 2010. Urgo currently serves as vice president for academic affairs and dean of faculty at Hamilton College in upstate New York. Hamilton College is one of the most highly regarded private liberal arts colleges in the nation, ranked in the top 25 by U.S. News & World Report.
"There was a palpable sense of excitement and celebration as we unanimously elected Dr. Urgo," said Molly Mahoney, chair of the search committee and member of the Board of Trustees. "As we got to know Dr. Urgo, we found he understood St. Mary's College, our sense of place, and shared our deep respect for the mission of a public liberal arts institution. We believe he will actively cultivate the intellectual life and vitality of the college. As the author of five scholarly books, Urgo will interact effectively with and lead a community of scholars. With his experience as a leader in both private and public colleges, he will ideally serve as a national voice on public liberal arts education.
"The search committee, made up of individuals from the faculty, Board of Trustees, student body, and staff, have worked collaboratively with the Board of Trustees during the search and made every effort to honor the trust the campus community placed in the representative process," Mahoney continued. "We look forward to introducing Dr. Urgo to the campus community in early March and have made his biography available on the college web site."
"I am confident Dr. Urgo will provide inspiring leadership and sound management to guide the college through today's challenging economic times while continuing to foster a climate of academic excellence, a vibrant campus culture nourishing student achievement, and an open, collaborative relationship with our local and state community," said James P. Muldoon, chair of the SMCM Board of Trustees.
Urgo serves as the chief academic officer of Hamilton College in Clinton, New York. As such, he leads the 183-member faculty and oversaw the College Library; the Registrar's Office; the Nesbitt-Johnston Writing Center; the Emerson Gallery; Hamilton's programs in Paris, Madrid, Beijing, Washington, D.C., and New York City; intercollegiate athletics; and several other academic support programs and centers. He is a professor of English, and has taught courses in American literature while serving as dean of faculty.
Urgo created the position of associate dean for diversity initiatives, improving the recruitment and retention of faculty of color during his time at Hamilton College. He also conducted a series of alumni association meetings around the country, "an evening with the dean of faculty," in cooperation with the Development Office. Urgo also coordinated a campus-wide strategic planning process, resulting in the publication of Foundations for Hamilton's Next 200 Years.
"I am drawn to St. Mary's College of Maryland because of its commitment to the goals of accessibility, inclusiveness, meritocracy, and sustainability—the central aims of public education in the setting of a residential liberal arts college," said Urgo. "Moreover, I am drawn to its faculty, and to the articulation by the faculty of the core principles of a liberal arts education. I am inspired by the location, by the ongoing educational legacy of Historic St. Mary's City: the commitment to freedom and inclusiveness as intellectual values to preserve and perpetuate."
A native of Hartford, Connecticut, Urgo received his bachelor's degree in 1978 from Haverford College with a major in political science. He holds a master's degree from Wesleyan University and a master's and Ph.D. in American civilization from Brown University.
Urgo served as professor and chair of the English department at the University of Mississippi from 2000 to 2006. At the University of Mississippi, he led a department of 40 full-time faculty members as well as the freshman composition program, the speech program, the writing center and the freshman seminar program. He led several curricular revisions and served on university committees and task forces that addressed general education, racial reconciliation, faculty governance, internships, interdisciplinary programs and the establishment of residential colleges. He also served on the governing council of the McDonnell-Barksdale Honors College.
Prior to arriving at the University of Mississippi in 2000, Urgo was a member of the Bryant ¬College faculty for 11 years. He held a Fulbright lectureship in Spain in 1992. He also taught as an Andrew W. ¬Mellon Fellow in American studies and assistant professor of English at Vanderbilt University from 1986-89, as a visiting assistant professor of English at Syracuse University from 1985-86, and as a teaching fellow while earning his Ph.D. at Brown University from 1983-85.
He received the Bryant College Alumni Association's Distinguished Faculty Award in 2000. Four years later, a $100,000 endowment created the Lindsay McCauley Kirkley Women's Council Scholarship in his honor at the University of Mississippi. He serves on the Board of Governors of the Willa Cather Foundation in Red Cloud, Nebraska.
Urgo's research interests focus on the works of 20th-century American novelists and writers William Faulkner and Willa Cather. He has published five books: Faulkner's Apocrypha: A Fable, Snopes, and the Spirit of Human Rebellion; Novel Frames: Literature as Guide to Race, Sex, and History in American Culture; Willa Cather and the Myth of American Migration; and In the Age of Distraction. Urgo's sixth book, co-authored with Noel Polk, Reading Faulkner: Absalom, Absalom!, will be published in March 2010. Urgo has edited or co-edited numerous volumes, including a classroom edition of Willa Cather's My Antonia. He has also written dozens of essays, including analyses of affiliation and collegiality in the academy.
Urgo is married to Lesley Dretar Urgo, a native of Akron, Ohio. They have one son, George, and two dogs, Dino, the dalmatian, and Doodle, the Jack Russell.
St. Mary's College of Maryland, designated the Maryland state honors college in 1992, is ranked one of the best liberal arts schools in the nation by U.S. News & World Report, Kiplinger's, and The Princeton Review. Founded in 1840 as Maryland's "monument school" commemorating the state's first capital, SMCM is the state's only public honors college.
More than 2,000 students attend the college, which has the highest graduation rate for all Maryland public colleges and universities. The school's waterfront campus along the St. Mary's River in Southern Maryland is home to the 2009 National Intercollegiate Sailing Association Co-ed champions.
For more information, visit http://www.smcm.edu/news.
###