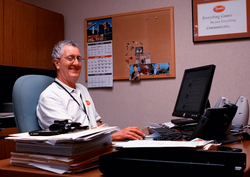 Our early approach to hunger relief was very brand centric - it was all about what Tyson was doing. We were saying
Springdale, AR (PRWEB) July 28, 2009
With 4,181 Twitter followers and growing, Ed Nicholson, Community Relations Director for Tyson Foods, has found first-hand that social media is a viable vehicle for delivering a message, especially when that message has to do with helping others in need.
Nicholson, himself an early adopter of social media tools, attributes Tyson's online philanthropic success to the high learning curve Tyson first experienced ten years ago when initially joining the hunger relief movement. "Our early approach to hunger relief was very brand centric - it was all about what Tyson was doing. We were saying "Aren't we great? Look, we are donating all this food."
Nicholson continues: "Long story short, we found that the hunger relief community didn't readily accept us with the ego-centric approach that we were taking. We found that to be accepted, we couldn't buy our way in, and we couldn't sponsor our way in. We had to become engaged, become involved, and develop relationships. We had to authentically and actively participate and add value to the hunger relief community."
Nicholson compares the similarities of the online community to the in-person hunger relief community Tyson is involved in. "The mindset of active participation and authenticity found in the hunger relief community parallels how online communities work. You have to contribute, become engaged, participate in the conversation and work on developing relationships through the conversation to achieve credibility."
When Nicholson decided to take hunger relief into the social media space, the strategy on how to get started was not a question. "When we started using social media tools, it absolutely paralleled our experience in becoming involved in the hunger-relief community. We didn't take a brand-centric approach. We opted, instead, to start and continue the dialog of hunger relief through sharing and giving."
Today, you will find the active Community Relations Director for Tyson posting the latest YouTube video to the Tyson Hunger Relief Blog, Tyson's online blog profiling the efforts of hunger champions and their stories. Every few minutes or so, you will find him re-tweeting valuable food drive information at http://twitter.com/TysonFoods. Nicholson explains his active online presence: "For us, social media is a natural extension of community relations. It is about having a presence within the online community. I don't think that the impact can be measured in numbers."
For those interested in learning more about how social media can help your business, charity or fund-raising event, Ed will be presenting locally this Thursday evening, July 30, from 6:30pm to 8pm at The Jones Center- Room 221, 922 East Emma Avenue in Springdale, AR on behalf of the Northwest Arkansas Social Media Club.
About the Northwest Arkansas Social Media Club
The Northwest Arkansas Social Media Club is for anyone and everyone involved (or just getting involved!) in social media. We host monthly tweet-ups, a 24/7 blog and lots of supportive members on Twitter. Search hashtag #SMCNWA on Twitter to find fellow Northwest Arkansas Members, or sign-up online to become a member (membership is free). Friend them on Facebook, or follow them via Twitter
About the Tyson Foods Hunger Relief
For more information on how you can get involved with hunger relief, visit the Tyson Foods Hunger Relief blog, follow them on Twitter here, or contact Ed directly at: ed dot nicholson at tyson dot com
Please direct all Northwest Arkansas Social Media Club inquiries to:
Kyle Judkins
(870) 489-4666
kyle dot judkins at lostintechnology dot com
Please direct all Tyson Foods Hunger Relief inquiries to:
Ed Nicholson
Director of Community and Public Relations
Tyson Foods, Inc.
479-290-4591
http://twitter.com/TysonFoods
http://hungerrelief.tyson.com
###