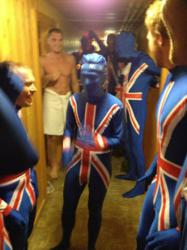 Smiffy's are pleased to be able to bring Team GB a much needed morale boost
Gainsborough, Lincolnshire (PRWEB UK) 16 July 2012
The dedicated Olympic team recently travelled to a high altitude training camp in Austria. With a rower's birthday occurring during the time spent abroad, the team secretly decided to play a prank on the birthday boy, by planning a full scale abduction.
The team felt they needed to add some appropriate getup to the prank so of course came to the fancy dress experts, Smiffy's. Living up to their motto—'Serious Fun'—Smiffy's were able to kit out the rowing team with Union Jack second skin costumes.
Once disguised in suitable attire, the rowing team burst into their teammate's physio room, shocking him and dragging him outside.
Safe to say once the dust had settled, the prank went down a treat and the team experienced a huge boost.
Maddie George, Smiffy's Communications Manager commented, "With the Olympics being less than a month away, this training period is vital to the team's success. For many athletes it means being away from families and loved ones for weeks at a time. Smiffy's are pleased to be able to bring Team GB a much needed morale boost. Everyone at Smiffy's Party HQ is rooting for the Olympic team to bring home the Gold, go get it chaps!"
Check out the fantastic prank pictures on Smiffy's Facebook album or head over to Youtube to see the action for yourself.