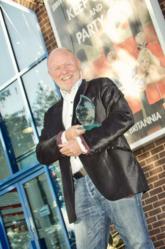 We are thrilled to have been awarded the accolade of Gainsborough Business of the Year, which recognises our outstanding contribution to our staff, our industry and the local economy.
Gainsborough, Lincolnshire (PRWEB UK) 12 September 2012
The fancy dress experts scooped this prestigious honour at the Gainsborough Business Awards held at the White Heather at Caenby Corner on 6th September.
Smiffy's picked up Business of the Year in 2010 so were delighted to achieve the accolade for a second time. Smiffy's design and manufacture hundreds of fresh and innovative costumes each year for party people all over the world.
The Gainsborough Business Awards brings together to top businesses in Gainsborough's best businesses every year. Dominique Peckett, Director, commented, "We are thrilled to have been awarded the accolade of Gainsborough Business of the Year, which recognises our outstanding contribution to our staff, our industry and the local economy. The vast majority of our employees live in and around Gainsborough. It is due to their hard work and their commitment to Smiffy's that has made this achievement possible."