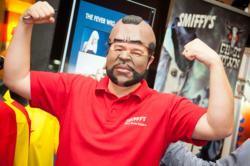 Gainsborough, Lincolnshire (PRWEB UK) 21 February 2013
Smiffy's presented a wide range of costumes from their new collection, ranging from officially licensed 'Dirty Dancing' costumes to their ground-breaking Halloween range, which includes three new themes – 'Ghost Town', 'Hell's Asylum' and 'Carnival of the Damned'.
Smiffy's also presented their brand new collection of 'wonderfully wearable wigs', which are designed for serious fun and are manufactured to represent excellent value for money. Furthermore, Fever Collection introduced a brand new range of professional, heat-stylable Fashion wigs, positioned to compete with the leading contemporary fashion brands. Both the Smiffys and Fever Wig Collections look superb in their specially designed, market-leading packaging.
David Wain, Head of UK and International Sales at Smiffy's said, "Our new wig collections stole the show on our Road Show tour. We originated as wigmakers in 1894 and with these new collections we're set to re-establish our position as the prominent supplier of party market wigs, globally. We've made record breaking sales this year, taking more forward orders and seeing more customers than ever before!"
As well as their new professional wigs, Fever presented their fun and flirty collection of party fashion and accessories, including new figure-hugging Bodysuits and animal inspired apparel. Time4Fun secured new business with their amazing selection of toy and leisure products – with over 650 lines for 2013 – covering 23 different categories.
Not only did the road shows provide an exclusive preview to Smiffy's, Fever and Time4Fun's new products, it also gave them more opportunity to interact with customers. David continued, "It was great to meet all the customers, established and new, and their feedback was overwhelming. The Smiffy's Road Shows allow us to come to the customers' doorstep, giving us a better opportunity to reach out to more people and spend more time with each customer – something that we just didn't get from Trade Shows. We are already planning a bigger and better Road Show experience for 2014, so watch this space!"