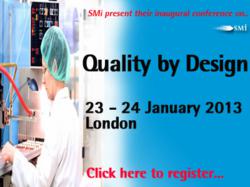 London (PRWEB UK) 27 November 2012
Optimising process development, manufacturing and performance will be the focus for this new event taking place on the 23rd & 24th January 2013 in London.
The event is currently the only one of its kind to tackle the issue of flawed design processes and will aim to explain how the Quality by Design concept can be adopted by Pharma and biotech companies to improve the quality of medicines produced and save substantial amounts of money - as high as $20-30 billion worldwide according to experts.
16 speakers will be presenting case-studies, interactive panel debates and presentations covering drug substance design requirements, designing quality into a biomanufacturing facility, formulation problems for inhaled generics and more.
Dale Butler, MD of SMi Group commented: 'we've created this event in response to feedback from the industry and by continually listening to the needs of our customers we're delighted to be able to address the information gap faced by many industry professionals.'
About SMi Group
Established since 1993, the SMi Group is a global event-production company that specializes in Business-to-Business Conferences, Workshops, Masterclasses and online Communities. We create and deliver events in the Defence, Security, Energy, Utilities, Finance and Pharmaceutical industries.
We pride ourselves on having access to the world's most forward thinking opinion leaders and visionaries, allowing us to bring our communities together to Learn, Engage, Share and Network. We hold events in over 30 major cities throughout the world including London, Paris and Singapore and to date have welcomed over 200,000 participants from 80 countries.
A full programme and further information can be found at:
http://www.smi-online.co.uk/QbD-conference28.asp