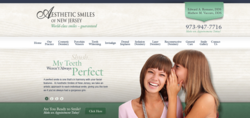 Paramus, NJ (Vocus/PRWEB) February 01, 2011
At their New Jersey cosmetic dentistry practice, Dr. Edward Romano and Dr. Matthew Vaccaro have implemented this innovative technology to benefit patients interested in cosmetic dentistry. The computer imaging is done so patients can picture the astonishing potential of a smile enhancement while understanding the likely outcome. With the innovative technology, the dentists say they are able to show their patients how various cosmetic procedures, such as teeth whitening, Invisalign®, and porcelain veneers, can help create the smile they have always wanted.
By combining the expected results of a number of cosmetic and restorative dentistry procedures, the dentists at Aesthetic Smiles of NJ say the computer imaging technology allows their patients to see what could be their new smile before treatment even begins. In a before-and-after split screen, the dental technician can alter the initial image of a patient's teeth. By digitally changing and enhancing the shape and color of the patient's teeth, the dentists at Aesthetic Smiles of NJ illustrate the likely outcome of procedures such as dental implants, veneers, and teeth whitening.
Dr. Romano and Dr. Vaccaro say they continue to pursue the most advanced dental technology because it enhances their ability to meet patient expectations with safe and effective cosmetic dentistry results. Whether they are employing imaging technology, digital radiography, or laser dentistry, the dentists at Aesthetic Smiles of NJ say they remain strictly dedicated to patient satisfaction and safety because they believe everyone deserves the beautiful smile they desire.
About Aesthetic Smiles of New Jersey
Dr. Edward Romano earned his dental degree from the Georgetown University School of Dentistry, and is recognized by his peers as a leader and teacher in the cosmetic dentistry industry. He has appeared on a number of nationally-syndicated television programs, and lectures nationwide as well. Dr. Romano pursues a rigorous continuing education schedule throughout the year to ensure his practice remains on the cutting-edge of dental technology. He is the attending dentist at the Morristown Memorial Hospital in New Jersey, where he teaches general and cosmetic dentistry, as well as advanced dental techniques to dental residents.
Dr. Matthew Vaccaro earned his dental degree from the State University of New York at Buffalo, where he also earned two prestigious awards for his work in dental implant placement and fabrication and prosthodontics. He is on staff at the Morristown Memorial Hospital, where he guides tomorrow's dentists in all aspects of general, cosmetic, and restorative dentistry. Dr. Vaccaro is an active member of the American Academy of Dentistry, the American Dental Association, the Academy of General Dentistry, and the Tri-County Dental Society.
Aesthetic Smiles of New Jersey is located at 310 Madison Ave. in Morristown, NJ 07960, and can be reached at (973) 947-7716, or found online at either http://www.aestheticsmilesofnj.com/ or the Aesthetic Smiles of New Jersey Facebook page.
###