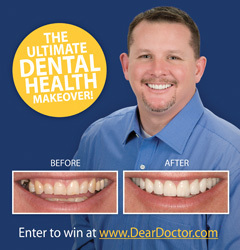 "Given the overwhelming positive feedback we've seen with our first contest winner, we have decided to expand our future contests."
Fishkill, NY (PRWEB) March 17, 2010
Dear Doctor-Dentistry & Oral Health magazine, the nation's foremost voice in unbiased, expert advice on how to care for your smile and oral health, unveiled the results of their 1st Ultimate Dental Health Makeover Contest and announced that they are increasing the amount of smile makeover winners they will select each year.
Dr. Mario Vilardi, president and publisher of Dear Doctor, explained, "Given the overwhelming positive feedback we've seen with our first contest winner, Brian R. of Rohnert Park, California, we have decided to expand our future contests." Dear Doctor will introduce more contests per year and allow contestants to enter daily to increase their chances of winning. Vilardi continued, "Restoring oral health as well as function and cosmetics to our winner was paramount for us here at Dear Doctor. Yes, porcelain veneers can dramatically change a person's smile and self-confidence; however, our goals are greater than just the cosmetics. We truly want to change our winner's oral health and life."
No one knows the truth behind this fact better than Brian. Brian's makeover team included a Dear Doctor-assembled group of highly trained dental experts, with Dr. Wayne Sutton, leading the way. "My staff and I pride ourselves on providing our patients with the best individualized care possible using the latest techniques available," said Dr. Sutton, a well-known Rohnert Park cosmetic dentist. "It is also critical for us to establish a great rapport with our patients so that we understand their concerns, worries, challenges, as well as their vision for their smile makeover. This is especially true when it comes to cosmetic & restorative dentistry."
The Dear Doctor smile makeover team, assembled from industry leading specialists, completed treatment using top products, including bone grafting materials courtesy of Osteohealth; dental implants from Biomet 3i; porcelain veneers and crowns by Serenity Smiles; and oral hygiene products from Nimbus Dental.
For more information or to enter for a chance to win, visit Dear Doctor's smile makeover contest. To read Brian's complete makeover story and see before and after photos, visit the smile makeover contest results.
Dental professionals can learn more about becoming a Dear Doctor participating dentist by visiting http://www.DearDoctorMarketing.com.
About Dear Doctor – Dentistry & Oral Health:
Dear Doctor - Dentistry & Oral Health is a quarterly publication written exclusively by dental health care professionals for the education and well-being of the general public. Written in uncomplicated language, Dear Doctor aims to open the lines of communication between patients and dental professionals by providing patients with the necessary education to make confident, informed healthcare decisions.
Media Contact:
Alison Goldstein
646.695.7040
alison(at)rosengrouppr(dot)com
# # #