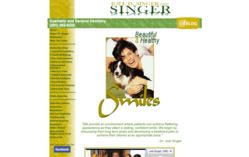 Fort Lee, NJ (PRWEB) January 17, 2012
According to a recent study by the American Academy of Cosmetic Dentistry (AACD), cosmetic dental procedures have increased substantially over the past five years. Teeth whitening has grown over 300% since 2006, while porcelain veneers have increased by 200% and direct bonding by 100%. Cosmetic dentist Dr. Joel Singer says that patients looking for cosmetic dentistry in New Jersey should place significant importance on selecting the right practice for their smile makeover to ensure they get the best results. He adds that finding a cosmetic dentist with extensive and focused experience is essential to receiving quality treatment.
Another similar study recently produced by the AACD reports that 99.7% of Americans believe a person's smile is an important social asset, with 74% stating an unattractive smile can hurt a person's chance for career success. With such an importance being placed on the cosmetic appearance of one's teeth, Dr. Singer says that a smile makeover can offer patients renewed self-confidence and a more positive outlook on life. By combining several cosmetic procedures, he says patients can achieve a redesigned smile that they are proud to show off.
For patients considering porcelain veneers or teeth whitening in New Jersey, Dr. Singer recommends seeking dental professionals active in the dental community and dedicated to continued education. Active and consistent engagement, he says, ensures that cosmetic dentists stay up-to-date with the latest techniques and technology in the field. Dr. Singer adds that choosing a dentist who is in constant pursuit of the latest in dental education is one of the most important things patients can look for.
About Joel D. Singer, DMD
Following his graduation from Fairleigh Dickinson College of Dental Medicine, Dr. Joel Singer completed a post-graduate training program in Advanced General Dentistry at Mount Sinai Medical Center, where he served as Clinical Instructor. After establishing his private practice in 1988, he continued his education in cosmetic and restorative dentistry, completing the Advanced Ultimate Aesthetic Program. Dr. Singer is a Fellow in the Academy of General Dentistry and the Institute for Natural Dentistry, in addition to being a member of the American Academy of Cosmetic Dentistry, the International Academy of Oral Medicine and Toxicology, and the International Association of Mercury Free Dentists.
Located at 327 Bridge Plaza North in Fort Lee, NJ, Dr. Singer's practice can be reached at (201) 592-6222. He can also be contacted online via singerdentist.com or facebook.com/Singerdentist.
###