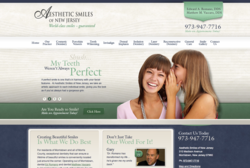 Morristown, NJ (PRWEB) December 15, 2011
At his New Jersey cosmetic dentistry practice, Drs. Edward Romano and Matthew Vaccaro say smile makeover procedures are becoming increasingly popular as the holidays start getting into full swing. Dr. Romano says smile makeovers, a comprehensive combination of multiple cosmetic dental procedures such as teeth whitening and porcelain veneers, have grown significantly in the past few years at his practice. According to the most recent statistics from the American Academy of Cosmetic Dentistry (AACD), teeth whitening procedures have increased by 300% since 2006 and porcelain veneers by 250%. A study by the Academy of General Dentistry (AGD) also shows that teeth whitening (a $600 million industry in the U.S.) is now growing by 15-20% each year. Dr. Vaccaro says that as demand for individual procedures continues to rise, he expects smile makeovers will be a popular elective treatment during the holidays.
Often a combination of dental veneers, whitening, and Invisalign® treatments, Dr. Romano says a smile makeover offers patients the chance to completely customize their smile and add radiance and vitality to their appearance. Because the holiday season comes with social gatherings and gifts, he says patients often want to look their best while spreading goodwill with friends and family. Through gum recontouring or Invisalign in New Jersey, Dr. Vaccaro says patients can boast a confident smile at holiday parties or offer a loved one the gift of a brighter smile.
Regardless of whether patients are electing a comprehensive smile makeover or a single cosmetic enhancement, Dr. Romano suggests consulting an experienced and qualified dentist before undergoing any procedure. By ensuring that a practice has the proper training and credentials, patients can achieve the best results for their mouth and create a personalized dental plan to boost self-confidence and their overall outlook on life.
About Edward A. Romano, DDS
Dr. Edward Romano received his dental degree from Georgetown University School of Dentistry. He has been featured on television news programs including Dateline NBC, CNN, and MSNBC to discuss cosmetic dentistry. Dr. Romano lectures nationally at the American Dental Association meetings. He has also taught cosmetic dentistry at the Aesthetic Advantage Continuum and is an attending dentist at Morristown Memorial Hospital, where he instructs dental residents in advanced techniques in cosmetic and general dentistry. Dr. Romano is also the past President of the New Jersey chapter of the American Academy of Cosmetic Dentistry.
Located at 310 Madison Avenue in Morristown, NJ, Dr. Romano's practice, Aesthetic Smiles of New Jersey, can be contacted at (973) 947-7716. It can also be reached online via the website aestheticsmilesofnj.com or facebook.com/aestheticsmilesnj.
###