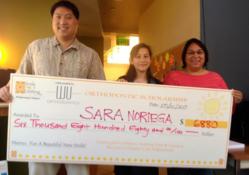 "I'm so happy and excited! This is a great opportunity for me to learn that being generous will come back to you in one way or another" ...Sara Noriega---S4L Scholar
Palo Alto, California (PRWEB) June 04, 2013
Sara Noriega was the first of six children to receive an orthodontic scholarship (free braces) from the local Smile for a Lifetime (S4L) Midpeninsula Chapter formed by Dr. Wu of Wu Orthodontics in Palo Alto, California. Dr. Wu is one of 137 chapters across North America changing children's through the gift of a smile in their communities.
Sara, age eleven and a student at East Palo Charter School, excels academically and is involved in community service. In 3rd grade, Sara initiated and coordinated a school-wide campaign to raise money for the Red Cross Tsunami Relief fund. She raised almost $500.00 for the fund. Sara knows the importance of giving back and paying it forward not only in her community but globally.
The mission of Smile for a Lifetime Midpeninsula, "is to create self-confidence, inspire hope and change the lives of children in our community..." Dr. Wu explains,"the gift of a smile can do all this for deserving, undeserved children who, in turn, will use this gift to better themselves and our community".
If you know any children in Palo Alto or the surrounding area who might need braces but can't afford them please click here for more information on how to apply for a scholarship. Dr. Wu will be awarding six scholarships a year to deserving and underserved youth in the area. In order to be considered for a scholarship, please get your applications in quickly, the process is competitive.
To see other S4L locations across North America please visit http://www.s4l.org and click on the map.