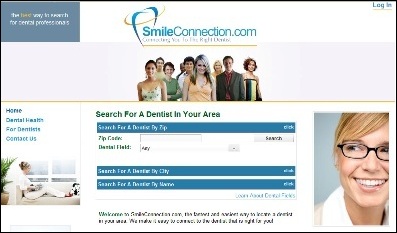 Hassle-free and straight-to-the-point is what people want on the web, and that's SmileConnection.com's priority
Birmingham, MI (PRWEB) January 16, 2007
SmileConnection.com is pleased to announce the launch of the largest free database of U.S. dental professionals available on the Internet.
SmileConnection.com enables users to quickly access comprehensive listings of dentists in any area of the United States with its easy-to-use search function.
Google and other Web 2.0 sites have prospered by giving users rapid access to extensive amounts of the information they want while still maintaining site simplicity. SmileConnection.com has applied these principles to the dental industry.
"We designed our service with speed in mind," said Dr. Bhatti, an oral surgeon and co-founder of SmileConnection.com. "We designed it so users can begin searching immediately, using just their zip code. The searches produce a large number of listings, each of which can be expanded to give the user more information."
"Hassle-free and straight-to-the-point is what people want on the web, and that's SmileConnection.com's priority," said Dr. Bhatti.
Traditional listing services often require users to provide significant amounts of information before returning any results, and the listings they provide are often limited and unorganized. Additionally, traditional services require dental professionals to spend hundreds or even thousands of dollars to be listed.
SmileConnection.com differs by offering dental professionals equivalent standard listings at no cost, which helps to enlist dental professionals and provide more comprehensive results.
SmileConnection.com also offers expanded features. For instance, dentists may create customized mini-websites, searchable within SmileConnection.com, that provide information such as office hours, location, photos and doctor profiles. Users may request appointments and send messages to the office through the mini-website interface or view the office's best work in a "Smile Gallery." The mini-websites also link to the office's official website and driving directions from Google.
In addition to dentist listings, SmileConnection.com offers a Dental Health section, which provides valuable information on important topics and issues relating to the dental profession. Through direct communication with dentists and the public, the Dental Health section is expanding to become an even greater resource for those seeking information about oral health care.
About SmileConnection.com
SmileConnection.com is an easy-to-use, comprehensive and informational website that allows users seeking dental care to search for dentists and dental professionals in their area. Launched in 2006, the website also provides information on new and exciting dental products available to consumers. SmileConnection.com plans to expand into other areas related to the dental healthcare industry. One such expansion, to be launched in early 2007, is "Dental Classifieds," which will display practices for sale, job openings, and job seekers.
Contact:
Sach Takhar
248-330-6252
###