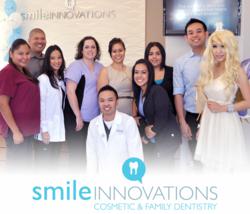 We were excited to make new friends at Free Dental Day 2012!
- Dr. Boyd
Tempe, Arizona (PRWEB) August 14, 2012
Local Tempe Dentist Dr. Boyd Patummas, DMD and his staff at Smile Innovations of Tempe, Arizona held a free dental cleaning day for children on August 3, 2012. The successful event was designed to teach children the importance of daily oral hygiene and to promote healthy
living through properly maintained teeth. The tooth fairy took photos with the children, provided healthy snacks and balloons to show that dental care can be fun.
Smile Innovations is a family focused dentistry and supports the Tempe community through various educational programs. The Free Dental Cleaning Day was scheduled to kick start healthy teeth cleaning habits in conjunction with the new school year.
Dr. Boyd Patummas, DMD received his DMD degree in 2004, from the Temple University School of Dentistry in Philadelphia and has led the way in representing a new generation of dental professionals. His practice includes state of the art technology along with personal dedication to improving his client's cosmetic and dental needs.
Dr. Boyd Patummas, DMD of Smile Innovations is located at 6323 S. Rural Road #101, Tempe, AZ 85283. Dr. Boyd is highly skilled and provides a wide range of dental services including general, emergency and cosmetic dentistry, dental bonding and invisalign.
Smile Innovations is committed in providing the best dental services in Tempe, through clear communication, education, and excellent care. The goal is to help patients experience the benefits of a healthy mouth, which supports overall well being for a healthy life.
For more Information about Smile Innovations visit http://www.smileinnovation.com/about or call 480.820.7777.