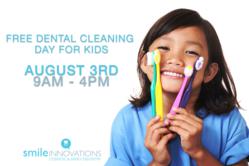 Smile Innovations understands that good oral hygiene and healthy teeth begin with developing good daily habits at an early age.
Tempe, Arizona (PRWEB) July 31, 2012
Calling all kids! Smiles Innovations family friendly dentistry of Tempe offers one free dental cleaning day for kids August 3, 2012 from 9am to 4pm at their office located at 6323 South Rural Road, Suite 101, Tempe AZ 85283.
Start the school year off right with a clean, healthy smile! Smile Innovations welcomes new patients ages 6 to 13 to a day of free cleanings, exams and x-rays. Space is filling up fast, so reserve your spot today by calling 480.820.7777.
This promotion is subject to change without notice. For more information please visit: http://smileinnovation.com/freedentalday
Smiles Innovations understands that good oral hygiene and healthy teeth begin with developing good daily habits at an early age. Smile Innovations would like to invite parents and their children to learn and be educated to improve and take care of their teeth. We understand that not every child is fortunate to have a dental cleaning or learn proper oral hygiene instructions.
We encourage our patients to maintain a healthy mouth. At Smile Innovations, our dentists cares and wants your kids to develop confidence in their smiles. When kids look and feel their best, they are happier and will not feel discouraged or afraid to go to the dentist. Children should not grow up to be adults that worry about losing their teeth and having cavities. They should enjoy their childhood and develop good brushing and
flossing routines. Maintaining healthy mouths and disease-free gums is the number one goal for children at Smile Innovations.
About Smile Innovations
Dr Boyd Patummas, DMD and Dr Linda Ma, DMD are highly skilled cosmetic and family dentists who represent a new generation of dental professionals. They are well trained and experienced to accommodate the most demanding and challenging cosmetic and functional needs of any patient using the most up to-date equipment and clinical expertise.
They met and received their DMD degree from the Temple University School of Dentistry
in Philadelphia in 2004. They combine their exceptional dental education, extensive clinical experience and long-standing personal dedication to improving peoples' dental health. They are committed in helping serve the community by educating patients to having better teeth.
Services include: General Dentistry, Emergency Dentistry, Cosmetic Dentistry, Pediatrics Dentistry, Dental Bonding, Bridges, Crowns, Veneers, Dentures, Restorative Dentistry, CEREC Restoration, Dental Implants, Invisalign, and Teeth Whitening.